July 07, 2017
Patients With Fibromyalgia, Depression May Benefit From Pregabalin
This article originally appeared
here.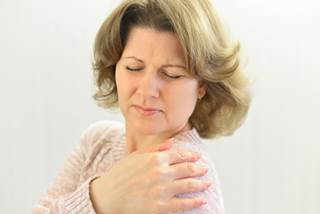 Researchers identified characteristics associated with pain improvement in patients with fibromyalgia who take antidepressant medications.
In a post hoc analysis of a pregabalin trial, researchers identified characteristics associated with pain improvement in patients with fibromyalgia who take antidepressant medications. Their findings were reported in Pain Medicine.1
Although there is currently no gold-standard therapy for the treatment of fibromyalgia, a number of medications have shown modest efficacy in managing fibromyalgia-related pain, including pregabalin, duloxetine, milnacipran, and amitriptyline.2 However, these "do not necessarily provide a clinically meaningful improvement in FM-related pain for every patient, perhaps due to their different mechanisms of action," wrote the authors of the current study. "Identifying treatment responders…can help refine treatment options and maximize patient outcomes while minimizing exposure to drugs for those patients who are less likely to respond."
Although previous post hoc analyses of pregabalin trials have investigated associations between patient characteristics and treatment response, individuals also taking antidepressant medications, who account for up to 60% of patients with fibromyalgia, had been excluded from those trials.3,4 In a 2015 phase 3b clinical study of 193 adult patients with fibromyalgia at 38 centers in the United States, Canada, and Europe, pregabalin led to significant pain in patients taking antidepressants (selective serotonin reuptake inhibitors or serotonin/norepinephrine reuptake inhibitors) for comorbid depression, compared with placebo, although not all patients experienced clinically meaningful improvement.5
The present study, sponsored by Pfizer Inc, explored baseline patient characteristics that may have influenced these patients' pain response to pregabalin compared with placebo. The mean pain score on an 11-point scale was the primary endpoint.
Pregabalin led to significant improvement in mean pain scores compared with placebo for most baseline characteristics, including age, fibromyalgia duration, depression diagnosis, depression < 10 years, prior opioid use, number of previous fibromyalgia medications, and severity of pain, anxiety, or sleep disruption (P <.05 for all).
However, patients with the following baseline characteristics or conditions did not demonstrate a significant response to pregabalin vs placebo: insomnia, irritable bowel syndrome, gastroesophageal reflux disease, severe fibromyalgia (Fibromyalgia Impact Questionnaire with score rated on a 0 to 100 scale: total score, 59–100), depression diagnosis preceding fibromyalgia, depression ≥ 10 years, more severe depression (Hospital Anxiety and Depression Scale-Depression score ≥ 8), and high-dose antidepressant regimen.
These results are in line with those from earlier studies supporting pregabalin as an adequate therapy for pain in a broad population of patients with fibromyalgia. The researchers noted, however, that the original study was underpowered to test the effects of the variables examined in this post-hoc analysis. In addition, comorbidities were self-reported.
Although the medication "did not improve pain severity in patients with severe [fibromyalgia] or more long-term or severe depression, it may be of value as part of a multimodal and multidisciplinary treatment regimen for these difficult-to-treat patients," the researchers concluded.
Disclosures: All study authors are either employees of Pfizer or have received consulting fees from the company.
References