November 16, 2015
Lead Exposure May Contribute to Insomnia, Daytime Sleepiness in Children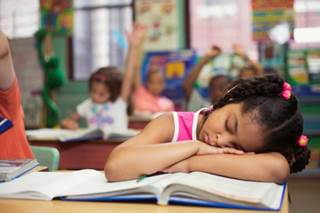 Lead Exposure May Contribute to Insomnia, Daytime Sleepiness in Children
In some developing countries, lead pollution continues to be a significant health risk, especially to children. Now, research published in Sleep indicates that elevated blood lead levels are associated with an increased risk of sleep problems and excessive daytime sleepiness in children.
In a longitudinal cohort study, Jianghong Liu, PhD, of the University of Pennsylvania's Perelman School of Medicine, and colleagues analyzed data from 665 Chinese children. Blood lead levels were measured beginning in 2004 when participants were aged 3 to 5 years, and sleep was assessed by both parents via the Child Sleep Habits Questionnaire and children using an adolescent sleep questionnaire when the children were aged 9 to 13 years.
Mean blood lead level was 6.26 μg/dL (SD = 2.54). Significant positive associations were found between blood lead level, sleep onset delay (r = 0.113, P< 0.01), sleep duration (r = 0.139, P< 0.001), and night waking (r = 0.089, P< 0.05). Excessive daytime sleepiness (26.1% vs. 9%, P<0.001) and use of sleeping pills (6.5% vs. 1.8%, P=0.03) was more prevalent in children with a blood lead level ≥ 10.0 μg/dL compared to those with a blood lead level < 10.0 μg/dL. After adjusting for child age, sex, parental education, and school district, blood lead level ≥ 10.0 μg/dL was significantly associated with increased odds for excessive daytime sleepiness (OR = 2.90, 95% CI = 1.27-6.61) and any insomnia (OR = 2.01, 95% CI = 1.03-3.95).
CLINICAL CHART: Insomnia Evaluation
"This study addresses an important but often neglected area of sleep science, namely, environmental factors that disrupt sleep biology and behavior in children and other vulnerable populations," said study author David Dinges, PhD, of the University of Pennsylvania's Perelman School of Medicine.
The results of the study contribute to the greater understanding of how lead exposure affects childhood insomnia and daytime sleepiness, and may help shed light on how sleep problems are associated with development disorders and neurocognitive problems.
"Insufficient sleep and daytime sleepiness is very prevalent in children and adolescents, and it is a pervasive problem that is linked with a significant public health burden," said Dr. Liu. "More research needs to be done to identify contributing factors and ways to prevent or reduce their impact. Doing this can not only help alleviate sleep disturbance, but can also indirectly improve sleep-related health outcomes, including cognition, emotion, behavior, and in some cases, diabetes."
Reference