April 22, 2015
Transcranial Direct Current Stimulation May Improve Aphasia Outcomes
Speech impairment previously thought irreversible show incremental improvement with the experimental treatment.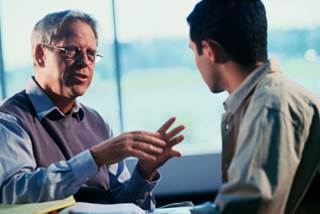 Transcranial Direct Current Stimulation May Improve Aphasia Outcomes
WASHINGTON — Impaired language skills associated with primary progressive aphasia previously thought to be irreversible, appeared to improve with transcranial direct stimulation, findings from a small study indicate.
Improvements in naming, grammatical comprehension, repetition and sentence productivity were observed in eight patients with primary progressive aphasia (PPA) who underwent the therapy, according to a speaker at the American Academy of Neurology 2015 meeting.
"To see any improvement is remarkable and very encouraging," study researcher Roy Hamilton, MD, an assistant professor of neurology at the University's Perelman School of Medicine during a poster session at the American Academy of Neurology 2015 meeting.
He and colleagues applied transcranial direct stimulation (tDCS) at an intensity of 1.5mA to the language-dominant left hemisphere of the brain during 20 minute sessions over the course of 10 days.
The anode was positioned over the left frontotemporal region (F7), and the cathode was positioned over the left occipitoparietal region (O1). Neuropsychological assessments were performed at baseline, immediately after the initial 10 days of treatment, at 6-week follow-up, and again at 12-week follow-up.
Improvements in measures of naming, grammatical comprehension, repetition and sentence productivity at each of the post and follow-up sessions were observed, the researchers noted, and appeared to be significantly greater when compared with severity-matched historical control patients on similar linguistic measures.
Furthermore, the improvements seemed to increase over the course of treatment, peaking at the 12-month follow-up visit.
"Our results support the hypothesis that tDCS provides both a transient as well as a lasting improvement on some of the main language skills affected by PPA. This offers potential for the clinical implementation of tDCS in the treatment of PPA and other neurodegenerative conditions," Hamilton said.
A larger study is underway using a control group and sham treatment to determine whether the outcomes are attributable to placebo or practice effect.
Reference