July 28, 2015
Rise in Autism Diagnoses Likely Result of New Classification System
the Neurology Advisor take:
Although autism diagnoses among special education students grew more than three-fold between 2000 and 2010, the reason for the dramatic rise may not be because of an actual increase in autism, but rather, a consequence of a new classification system.
Santhosh Girirajan, PhD, of Penn State University and colleagues, analyzed 11 years of data on special education students. That equated to about 6.2 million such students per year. The data was culled from data from the Individuals with Disabilities Education Act (IDEA) for students in special ed programs. Under the legislation, students are organized into one of thirteen disability categories including autism spectrum disorder, intellectual disability, emotional disturbance, other health impairment, and specific learning disabilities.
Overall, during the study period, there was no increase in the number of special education students. In addition, while there was an increase in students diagnosed with autism, the rise was offset by an almost identical decline in students with other intellectual disabilities that are also seen with autism, the researchers reported in the American Journal of Medical Genetics.
The researchers claim that the jump in autism prevalence is probably due to changing patterns in the diagnosis of the condition, and the overlap of autism with other similar disorders.
"For quite some time, researchers have been struggling to sort disorders into categories based on observable clinical features, but it gets complicated with autism because every individual can show a different combination of features" Girirajan said in a statement. "The tricky part is how to deal with individuals who have multiple diagnoses because, the set of features that define autism is commonly found in individuals with other cognitive or neurological deficits."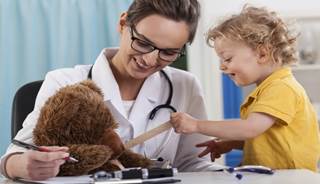 Rise in Autism Diagnoses Likely Result of New Classification System
A new paper suggests the greater than three-fold increase in autism diagnoses among students in special education programs in the United States is a result of a new classification system.
Scientists at Penn State University believe the large growth in autism diagnoses between 2000 and 2010 is largely due to a reclassification of individuals who previously would have been diagnosed with other intellectual disability disorders.
In a paper that appears online in the American Journal of Medical Genetics, researchers discuss their analysis of 11 years of special-education enrollment data on an average of 6.2 million children per year.
Next Article in Autism Spectrum Disorder
Sign Up for Free e-newsletters
Check out what's trending
CME Focus