October 20, 2015
Google Glass Shows Promise as Autism Therapy
the Neurology Advisor take:
A clinical trial is underway at Stanford University to examine Google Glass as a tool to help children with autism spectrum disorder.
Catalin Voss, Dennis Wall, PhD and Nick Haber, PhD, are working together to see if an app for Google Glass created by Voss, which can tell if the person you are looking is happy, sad, etc., by recognizing facial expressions can function as therapy for children with autism, who often struggle to interpret emotional cues.
While the trio has tested the software in a lab with 40 children, they are beginning a clinical trial with nearly 100 kids at home.
"First, we had to make sure that a six-year-old would actually wear this," Wall told Wired. "We've been able to show that. But we've also been able to see change in these kids, at least in the lab." He added that the software also records what the child does while wearing Google Glass, which a clinician can review.
Wall is also working on diagnosing autism at an earlier age by using machine learning algorithms to analyze data on the behavior to look for signals of the disorder.
The Stanford project is not the first to look at the potential of Google Glass in treating autism. Brain Power, a tech startup based in Cambridge, Mass., is developing applications to be used with Google Glass as an autism therapy.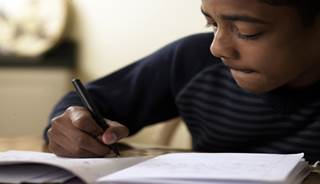 Google Glass Shows Promise as Autism Therapy
In his first year at Stanford, Catalin Voss helped build an app for Google Glass that could recognize emotions. If you put on Google's computerized eyewear and looked at others in front of you, the software could tell you — based on their facial expressions — if they were happy, sad, surprised, or disgusted.
But at Stanford, Voss has bigger ambitions. He's now working with Dennis Wall, a professor in the university's school of medicine, to hone this technology into something useful for children diagnosed with autism. This was one of Voss's original aims when he built Sension, but that didn't fit the broader prospects of the business. So he spun off the idea as a project inside the medical school.
Next Article in Autism Spectrum Disorder
Sign Up for Free e-newsletters
Check out what's trending
CME Focus