December 10, 2014
Movement Patterns May Indicate Autism Severity
the Neurology Advisor take:
Motion sensors can detect movement patterns that exist in children with autism spectrum disorders (ASDs) and their parents. The movements may represent a biomarker for ASDs, and may also indicate the severity of the condition, reported Elizabeth Torres, PhD, of Rutgers University in New Brunswick, N.J., and colleagues.
Previous studies have suggested that the movements of people with ASD are more disorganized than those without the disorder. This study sought to build on these results.
The study included 30 children and adults with ASDs, eight adults without ASDs, and 21 parents of children with autism. The researchers used motion sensors to record each participant's hand speed as they extended and retracted their hand to touch a specific spot on a touch screen. Each participant performed this action approximately 100 times with the sensors recording 240 movements per second.
In adults without ASDs, peripheral spikes (the minute fluctuations in movement speed) occurred very infrequently during the actual action, usually happening at either the beginning or end of the exercise. The researchers found that adults and children with ASDs had random patterns of peripheral spikes, similar to those found in children aged 3 to 5 who do not have ASDs.
The results showed a correlation between the peripheral spikes and ASDs severity: the more random the spikes, the lower the spoken language ability of the participant.
The researchers were also surprised to find that some parents of the children with ASDs also had random peripheral spikes, which suggests a genetic role. However, this needs to be explored in further studies.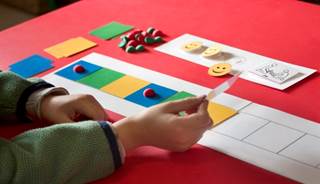 Movement Patterns May Indicate Autism Severity
Movement patterns that are imperceptible to the human eye but that are present in children with autism spectrum disorders (ASD) and their parents may provide a clue to the disorder's severity, new research suggest.
"We found speed fluctuations at millisecond time scale that could serve as a quantitative biomarker for ASD," study investigator Di Wu, a PhD graduate student at Indiana University Bloomington, told Medscape Medical News.
The researchers have developed a quantitative way to assess these otherwise ignored variations in movement.
Next Article in Autism Spectrum Disorder
Sign Up for Free e-newsletters
Check out what's trending
CME Focus