February 25, 2015
Researchers Identify Key Pathway in Aggressive Pediatric Brain Cancer
the Neurology Advisor take:
Researchers have uncovered a genetic pathway that plays a major role in cancer cell growth. Better yet, they may even have a drug that fights it.
A team of scientists from Johns Hopkins University School of Medicine uncovered the pathway while experimenting with cells from patients with atypical teratoid/rhabdoid tumor (AT/RT), a rare form of brain cancer that affects children. The researchers also found that selumetinib, an experimental cancer drug that's currently being tested in trials for other pediatric brain cancers, disrupted part of the pathway, meaning the drug could possibly be used to treat AT/RT.
Previous studies in fruit flies suggested that the LIN28 gene may play a role in regulating other genes involved in brain tumor development. LIN28 regulates thousands of RNA molecules in normal stem cells and gives them the ability to grow and proliferate, as well as resist damage — characteristics also shared by cancer cells.
Researchers found that two members of the LIN28 family of genes were highly expressed in nearly 80% of samples from AT/RT patients and tumors themselves. Blocking LIN28 expression slowed the tumor's cell growth and triggered cell death. When using selumetinib, scientists were able to cut tumor cell proliferation in half and increased the rate of cell death four-fold in some cell lines. They also worked with HMGA2. Upon silencing the factor, similar results were achieved.
Researchers hope that the findings will help scientists better understand the aggressive nature of AT/RT tumors and also better understand how to unravel them.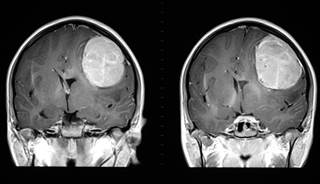 Researchers Identify Key Pathway in Aggressive Pediatric Brain Cancer
Working with cells taken from children with a very rare but ferocious form of brain cancer, Johns Hopkins Kimmel Cancer Center scientists have identified a genetic pathway that acts as a master regulator of thousands of other genes and may spur cancer cell growth and resistance to anticancer treatment.
Their experiments with cells from patients with atypical teratoid/rhabdoid tumor (AT/RT) also found that selumetinib, an experimental anticancer drug currently in clinical trials for other childhood brain cancers, can disrupt part of the molecular pathway regulated by one of these factors, according to a research team led by Eric Raabe, M.D., Ph.D., an assistant professor of oncology at the Johns Hopkins University School of Medicine.
Next Article in Brain Tumors
Sign Up for Free e-newsletters
Check out what's trending
CME Focus