August 24, 2015
Glioma Patients May Be Good Candidates for Single-Agent Phase 1 Trials
the Neurology Advisor take:
Patients with high-grade gliomas (HGG) may not have to be excluded from phase 1 solid tumor trials as previously believed, according to a study published in the Journal of Clinical Oncology.
Mrinal M. Gounder, of Memorial Sloan-Kettering, and colleagues reviewed the baseline characteristics, toxicities, responses, and survival of 327 individuals with recurrent HGG enrolled in Adult Brain Tumor Consortium trials of single-agent, cytotoxic (n=3) or molecular (n=5) agents from 2000 to 2008. At enrollment, patients (62% male, median age 52) had a median Karnofsky performance score of 90, 63% had glioblastoma, and the median number of systemic chemotherapies was one.
During cycle 1, grade ≥ 3 nonhematologic and grade ≥ 4 hematologic toxicities were 5% (28 of 565 adverse events) and 0.9% (five of 565 adverse events), respectively, with 66% occurring at the highest dose level. One death was attributed to drug, and the overall response rate was 5.5%. Median progression-free and overall survival times were 1.8 and six months, respectively.
Overall, patients with HGG who meet standard eligibility criteria may be good candidates for solid tumor phase 1 trials with single-agent molecular or cytotoxic drugs.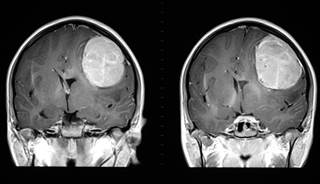 Glioma Patients May Be Good Candidates for Single-Agent Phase 1 Trials
Patients with high-grade gliomas (HGG) are frequently excluded from first-in-human solid tumor trials because of perceived poor prognosis, excessive toxicities, concomitant drug interactions, and poor efficacy. We conducted an analysis of outcomes from select, single-agent phase I studies in patients with HGG. We compared outcomes to pooled analysis of published studies in solid tumors with various molecular and cytotoxic drugs evaluated as single agents or as combinations.
Our analysis included 327 patients with advanced, refractory HGG who were enrolled onto eight trials involving targeted molecular (n = 5) and cytotoxic (n = 3) therapies.
Next Article in Brain Tumors
Sign Up for Free e-newsletters
Check out what's trending
CME Focus