March 10, 2017
Epilepsy, Seizures Common Among Nursing Home Population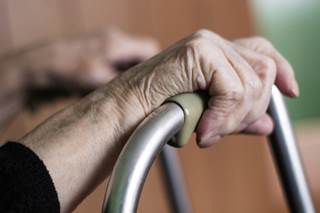 Patient history of primary or secondary brain tumor had the greatest association with epilepsy or seizures.
Seizures and epilepsy are more prevalent in elderly nursing home residents, especially those with neurologic comorbidities, than in patients in the community, according to data published in Neurology.1
"Nursing home patients are a very underrepresented population in research, although the elderly are a growing portion of our population," investigator Angela K. Birnbaum, PhD, from the University of Minnesota in Minneapolis, told Neurology Advisor. "Reporting the prevalence of epilepsy and other neurological conditions presents the scope of a problem by reporting the number of patients that may need specialized care, especially since these diagnoses are usually treated with [central nervous system] medications that can have complicated pharmacokinetics and side effect profiles."
A previous study of Medicare beneficiaries aged 65 years or older found a mean prevalence rate of epilepsy of 10.8 to 11.5 per 1000 persons; however, there are few data on the prevalence of epilepsy in the nursing home population. It is important to understand the state of the disease in this population, as epilepsy negatively affects the social, physical, and cognitive well-being of elderly adults, and these adults also are more likely to have severe outcomes from a seizure.2
In the current study, Dr Birnbaum and colleagues analyzed data from 5 cross-sectional cohorts of Medicare- and Medicaid-certified nursing homes to evaluate the prevalence of seizures/epilepsy with comorbid neurological disorders in nursing home residents. Nursing home residents with seizures or epilepsy were identified from Minimum Data Set assessments and International Statistical Classification of Diseases and Related Health Problems, Ninth Revision, codes.
The prevalence of seizures/epilepsy was 7.7% overall, with greater prevalence in men, younger residents (ages 65-74 years), and black residents. Although residents with seizures or epilepsy had a lower rate of fractures or falls, they tended to have a higher comorbidity burden.
A history of comorbid primary or secondary brain tumor had the greatest association with seizures/epilepsy in this cohort (35.2% and 23.4%, respectively), followed by head injury (17.9%), hemiplegia (17.7%), and stroke (13.7%). Notably, the prevalence of seizures/epilepsy was 7.9% and 7.0% in patients with dementia and Alzheimer's disease, respectively.
The prevalence of a comorbid diagnosis of stroke or dementia with seizures/epilepsy was highest in the West, Southeast, and Middle Atlantic regions of the United States.
The investigators also found a strong association between age and prevalence of epilepsy/seizures in patients with stroke and dementia comorbidities. Nursing home residents aged 65 to 74 years with a history of stroke or dementia had 3.8 to 3.9 higher odds of seizures/epilepsy than older residents (85 years or older).
Finally, nursing home residents with seizures/epilepsy had worse scores for activities of daily living, cognition, and comorbidity burden.
The authors pointed out that antiseizure medication in the elderly is associated with central nervous system-related adverse effects that can limit mobility, increase falls, and interact with other medications.
"It may be useful to reassess a patient's overall treatment in order to optimize therapy, which could include discontinuation of medications that may no longer be needed, are inappropriate for this cohort, or are treating conditions that are not as relevant in this population as when they were added at a younger age," Dr Birnbaum advised.
References
Birnbaum AK, Leppik IE, Svensden K, Eberly LE. Prevalence of epilepsy/seizures as a comorbidity of neurologic disorders in nursing homes. Neurology. 2017;88(8):750-757. doi: 10.​1212/​WNL.​0000000000003629
Faught E, Richman J, Martin R, et al. Incidence and prevalence of epilepsy among older U.S. Medicare beneficiaries. Neurology. 2012;78(7):448-453. doi: 10.1212/WNL.0b013e3182477edc