Mark S Freedman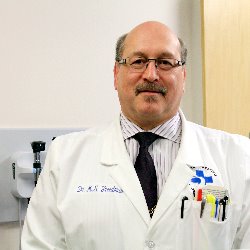 Mark S. Freedman, MD, FANA, FAAN, FRCPC
Practice Community
Ottawa, Ontario

Hospital and Institute Affiliations
University of Ottawa
Practice Niche
Multiple Sclerosis
Question 1.
What are the top-level takeaways for clinicians from this year's Americas Committee for Treatment and Research in Multiple Sclerosis (ACTRIMS) Forum?
Answer
The top takeaway from this year's ACTRIMS meeting is that "precision" per se is not yet there, but we can identify with certain aspects that help to recognize the type of precision that might be obtained, such as that in other fields like cancer. Using biomarkers, such as [neurofilament light chain] NfL levels might help refine precision in choosing or switching therapies. NfL levels at baseline can help decide the level of disease and offer prognostic [help] on patients such that very high levels might warrant a more aggressive "induction" approach to therapy, whereas low levels might justify an "escalation" approach. Induction therapy usually employs using cell depleting agents, such as alemtuzumab or cladribine; Whereas, an escalation approach starts with safe, but effective therapies, such as [glatiramer acetate] GA or [interferon] IFN[-β] and only moving to a riskier, but potentially more potent agent should disease breakthrough be obvious. Today, NfL in serum can be easily measured using a specialized antibody platform that offers validity across many sites.
Pharmacovigilance can also be fine-tuned with some precision. The use of factors such as length of treatment together with antibody measurements to JC virus might help to predict the likelihood of developing [progressive multifocal leukoencephalopathy] PML should a drug like natalizumab be continued. Upon reconstitution, the emergence of autoimmunity posttreatment with alemtuzumab might be better anticipated by the overshoot of B-cells.
Some have suggested a small dose of rituximab might prevent that overshoot, but this remains to be proven. However, the best way to prevent issues is still prolonged monthly monitoring, which can detect all cases of potential life-threatening autoimmunity. Optical coherence tomography can be used to detect early macular edema, preventing serious visual loss in patients who are treated with fingolimod.
Imaging is refining diagnosis and helping to sort out multiple sclerosis (MS) from non-MS lesions. There has been discussion regarding the use of the central vein sign (CVS) to discern lesions that are likely to be demyelinating from those that are not. This is starting to enter practice and may have a prominent role especially in the controversial [radiologically isolated syndrome] RIS, which is thought to be the "preMS" state, which is being studied as to whether it is prudent to treat with [disease-modifying therapy] DMT even at this early stage. Using [susceptibility weighted imaging] SWI sequences to look for the CVS is readily in use now with both 1.5 and 3.0 T [magnetic resonance imaging] MRI machines. Positron emission tomography studies are making a resurgence, but will be of limited use, research mainly, but not useful in clinical practice. Studies of brain volume have been touted as indicative of underlying disease progression but seem to be still validated only for group data, yet not for the individual.
Also, [artificial intelligence] AI is helping to get all the data to make sense, even when a cursory look at it reveals little. There are 2 ways in which AI has been surging into the MS world, the most prominent is through the use of large "real world" databases that collect information on tens of thousands of patients. Using all those data, one can mine it for outcomes not possible or studied in single clinical trials. One such recent example was the comparison of patients treated with higher-efficacy agents from the start vs typical first-line agents used in an escalation approach. Those treated with the induction approach seemed to be doing better. The other is to use large databases to combine elements, such as genetic traits, infection exposure, geography, or even gender to look at predicting clinical progression. Without the use of AI, this vast data analysis would not be possible.
Question 2.
How do you think precision medicine will change clinical outcomes for patients with MS?
Answer
We all believe that if we consider all the facets of disease to assist in a more precise profile of a patient and their prognosis, then choices of certain therapies make sense and are easier to justify, even when they pose significant risks. Inducing an effective early response will yield the best outcome.
Being able to better monitor or anticipate potential negative outcomes or adverse events will provide confidence to neurologists to choose among the more effective, but potentially risky therapies, when warranted.
Question 3.
Why is it important to formulate disability-specific neuroprotective treatments in MS?
Answer
"Neuroprotection" has so many meanings, but unless it shields against the cumulative damaging effect leading to disease worsening or disability, then it is not going to be of any interest or benefit clinically. There are trials in play for high-dose biotin, thought to better help demyelinated axons meet their depleted energy needs. Several studies are in play regarding agents that might block or negate the molecules that seem to repel oligodendrocyte processes from remyelination. Repulsive guidance molecule-a has diverse functions, including axon growth inhibition and immune regulation.
Question 4.
What research presented at ACTRIMS has the potential to be most practice-changing?
Answer
I was blown away, as were others, at the talk by MIT professor Dina Katabi, PhD, when she spoke of "invisibles" in terms of sensors that allow the monitoring of a patient's activities of daily living and beyond. It would offer the most natural movements by patients in their home environment without the need to wear wires or sensors. This may have more bearing on fluctuant disease states other than MS, but could still provide insight into how active a patient is all the time, rather than the short time we observe them.
This type of monitoring might be particularly important as an outcome measure in progressive disease, currently judged by short speedy walks of 8 meters or long distance walking of 500 meters. Having the mechanism to measure mobility over larger lengths of time will offer a greater ability to detect deterioration or improvement, which may be insensitive to current scales, such as the Expanded Disability Status Scale.
Disclosures
Dr Freedman reports the following industry relationships:
1. Receipt of research or educational grants: Genzyme Canada
2. Receipt of honoraria or consultation fees: Actelion, BiogenIdec, Celgene, Chugai, EMD Canada, Genzyme, Merck Serono, Novartis, Hoffman La-Roche, Pendopharm, Sanofi-Aventis
3. Member of a company advisory board, board of directors or other similar group: Actelion, BayerHealthcare, BiogenIdec, Hoffman La-Roche, Merck Serono, MedDay, Novartis, Sanofi-Aventis
4. Participation in a company sponsored speaker's bureau: Sanofi-Genzyme
Loading...
Loading...