December 05, 2014
Brain Changes in Smokers May Predict Relapse
the Neurology Advisor take:
In a study of smokers seeking assistance for quitting, researchers found that smokers who relapsed had reduced brain activity in the left dorsolateral prefrontal cortex, which controls executive function like working memory.
The study, published in Neuropsychopharmacology, builds upon previous research by James Loughead, PhD, of Penn Medicine, and colleagues. In this study, the researchers analyzed brain activity in 80 smokers aged 18 through 65 that smoked more than 10 cigarettes a day for over six months.
19 smokers quit successfully and 61 relapsed. Those that relapsed also showed heightened activity in the posterior cingulated cortex, which researchers associate with an "introspective" or "self-referential" state.
The subjects underwent functional MRI immediately after smoking and 24 hours abstinence. One week later, subjects had a monitoring visit, which included an assessment of smoking behavior and a urine test.
Using clinical and behavioral predictors of relapse, the researchers were able to predict 73% of relapse cases correctly using a model based off withdrawal symptoms, demographic and smoking history. They also predicted relapse in 67% of cases using only demographic and smoking history. When they incorporated working memory data from the fMRI scans, the researchers were able to predict relapse in 81% of cases.
While not clinically relevant, the researchers hope that the findings will help identify potential therapeutic targets to aid in smoking cessation.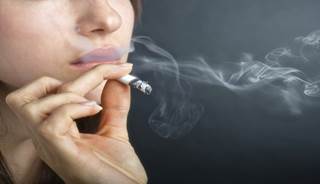 Brain Changes in Smokers May Predict Relapse
Earlier this year, the researchers — from Penn Medicine in Philadelphia, PA — demonstrated in a study published in JAMA Psychiatry how people experiencing nicotine withdrawal have trouble shifting between brain networks that govern different modes of behaviors.
In particular, nicotine withdrawal makes it harder for people to shift into the "executive control network," which experts say allows individuals to exert more conscious self-control over cravings.
Now, the researchers say that their new study — published in the journal Neuropsychopharmacology — is the first to apply analysis of that brain activity to predicting relapse among smokers.
Next Article in General Neurology
Sign Up for Free e-newsletters
Check out what's trending
CME Focus