June 15, 2016
Diabetes May Alter Gray Matter Volume in Adolescents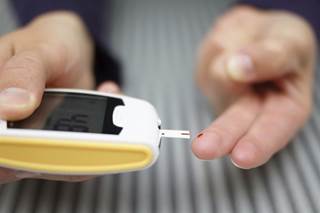 Diabetes May Alter Gray Matter Volume in Adolescents
HealthDay News -- Gray matter volume may differ in teens with type 2 diabetes, according to a study presented at the American Diabetes Association's 76th Scientific Sessions, held from June 10 to 14 in New Orleans.
Researchers from the Cincinnati Children's Hospital Medical Center conducted high-resolution magnetic resonance imaging on 20 teens with type 2 diabetes and 20 teens without diabetes.
The researchers found that patients with diabetes had less gray matter in 6 regions in their brains, and more gray matter in 3 regions. Some of these affected regions are involved in seeing and hearing, speech, memory, emotions, decision-making, and self-control. The team also found an association between less gray matter and the ability to pronounce and sound out unfamiliar words.
"We don't know if the changes we found are the direct result of diabetes, but studies in adults with type 2 diabetes with longer duration of disease also show brain volume differences, brain vascular changes, and cognitive decline," study author Jacob Redel, MD, a fellow in the division of endocrinology at the Cincinnati Children's Hospital Medical Center, said in a hospital news release. "Our findings suggest that preventing type 2 diabetes in adolescents is important to prevent possible complications in the future."
For more coverage of ADA 2016, click here.