July 02, 2015
Medicare Telemedicine Access Limited by Cost
the Neurology Advisor take:
Less than 1% of Medicare beneficiaries have access to telemedicine services due to cost concerns, according to a report from Kaiser Health News.
Only two Medicare Advantage insurers offer access to telemedicine services: Anthem and a University of Pittsburgh Medical Center health plan. Traditional Medicare has limited telemedicine to particular rural areas, and only if the patient is already at a doctor's office or clinic.
In 2012, Medicare paid approximately $5 million for telemedicine services, a mere fraction of the total $466 billion spent that year.
"There is no question that telemedicine is going to be an increasingly important portal for doctors and other providers to stay connected with patients," former Surgeon General Richard Carmona, MD, MPH, FACS, said in an interview.
Many organizations such as AARP and the American Medical Association have encouraged Congress to changed Medicare's telemedicine policy. They stress that telemedicine can be used to supplement primary care visits rather than replace them. For older adults with limited access to transportation or disability, telemedicine can be hugely beneficial.
"Medicare...is still laboring under a number of limitations that disincentivize telemedicine use," said Jonathan Neufeld, PhD, HSPP, clinical director of the Upper Midwest Telehealth Resource Center. "But ACOs and other alternative payment methods have the possibility of changing this dynamic."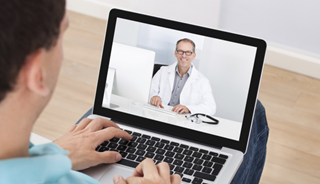 Congress hopes to expand access to telemedicine.
Nearly 20 years after such videoconferencing technology has been available for health services, fewer than 1 percent of Medicare beneficiaries use it. Anthem and a University of Pittsburgh Medical Center health plan in western Pennsylvania are the only two Medicare Advantage insurers offering the virtual visits, and the traditional Medicare program has tightly limited telemedicine payments to certain rural areas. And even there, the beneficiary must already be at a clinic, a rule that often defeats the goal of making care more convenient.
Congress has maintained such restrictions out of concern that the service might increase Medicare expenses. The Congressional Budget Office and other analysts have said giving seniors access to doctors online will encourage them to use more services, not replace costly visits to emergency rooms and urgent care centers.
Next Article in General Neurology
Sign Up for Free e-newsletters
Check out what's trending
CME Focus