December 22, 2014
Targeted Outreach Helps Smokers of Low Socioeconomic Status Quit
the Neurology Advisor take:
When participating in a tobacco cessation intervention program, people of low socioeconomic status are more likely to quit smoking than those not participating, according to the results of a prospective, randomized clinical trial conducted in the Boston area.
The researchers used interactive voice response techniques to reach out to the intervention group, some of which received usual care and others who were entered into the intervention program which included telephone-based counseling, free nicotine replacement therapy for six weeks, access to community-based referrals to address sociocontextual mediators of tobacco use, and integration of all components into their normal health care routine via the electronic health records system.
The intervention group (n=399) had a higher quit rate compared to the group that received usual care (17.8% vs 8.1%; odds ratio, 2.5; 95% CI, 1.5-4.0; number needed to treat, 10), and 21.2% of those in the intervention group that participated in telephone counseling were more likely to quite than those who did not, reported Jennifer S. Haas, MD, MSc, of Brigham and Women's Hospital in Boston, and colleagues. Free nicotine replacement therapy and asking for a community-based referral had no influence on the rate of quitting. However, those who requested and then used their referral were more likely to quit than those who did not use it (43.6% vs 15.3%; P < .001).
The researchers concluded that interactive voice response was a good means for engaging people of low socioeconomic status and that counseling, nicotine replacement therapy, and community-based resources are effective in the effort to encourage smoking cessation.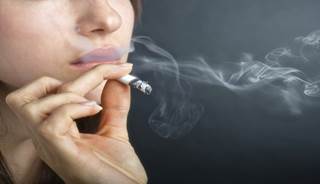 Targeted Outreach Helps Smokers of Low Socioeconomic Status Quit
Widening socioeconomic disparities in mortality in the United States are largely explained by slower declines in tobacco use among smokers of low socioeconomic status (SES) than among those of higher SES, which points to the need for targeted tobacco cessation interventions. Documentation of smoking status in electronic health records (EHRs) provides the tools for health systems to proactively offer tobacco treatment to socioeconomically disadvantaged smokers.
Jennifer S. Haas, MD, MSc, of Brigham and Women's Hospital in Boston, and colleagues evaluated a proactive tobacco cessation strategy that addresses sociocontextual mediators of tobacco use for low-SES smokers.
Next Article in General Neurology
Sign Up for Free e-newsletters
Check out what's trending
CME Focus