September 13, 2017
Zika Thrives in Pregnancy Due to Weak Immune System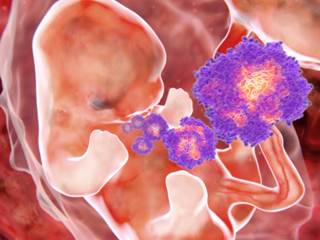 About 5% of a pregnant woman's monocytes have immune-suppressive activity.
HealthDay News — The Zika virus thrives in pregnant women by suppressing their already dampened immune systems and running roughshod over their body's natural defenses, which allows the virus to directly attack the fetus, according to a study published in Nature Microbiology.
Jae Jung, PhD, chair of the department of molecular microbiology and immunology at the University of Southern California's Keck School of Medicine in Los Angeles, and colleagues tested both the African and Asian strains of Zika in the blood samples of healthy men and women, as well as samples taken from pregnant women.
The researchers identified CD14+ monocytes as the primary target for both strains of infection. "About 5% of a pregnant woman's monocytes have immune-suppressive activity," Dr Jung said.
"African Zika virus pushes the 5 percent up to around 10%.By comparison, Asian Zika virus turns 70% of her monocytes toward immune-suppressing." Pregnancy was associated with an enhanced susceptibility to Zika virus infection.
"Specifically, Asian-lineage Zika virus infection of pregnant women's blood led to an exacerbated M2-skewed immunosuppression of non-classical monocytes in conjunction with a global suppression of type I interferon-signaling pathway and an aberrant expression of host genes associated with pregnancy complications," the authors wrote. "Also, 30 Zika virus-positive sera from symptomatic pregnant patients showed elevated levels of M2-skewed immunosuppressive cytokines and pregnancy-complication-associated fibronectin-1."
Reference
Foo SS, Chen W, Chan Y, et al. Asian Zika virus strains target CD14+ blood monocytes and induce M2-skewed immunosuppression during pregnancy [published online August 21, 2017]. Nat Microbiol. doi:10.1038/s41564-017-0016-3