April 11, 2018
Effects of Prenatal Triptan Exposure on Neurodevelopment in Children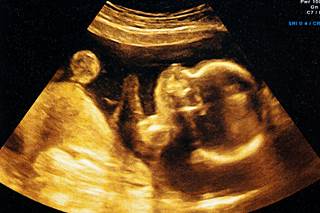 Sumatriptan was the most commonly used triptan medication in this study for the treatment of migraines.
Exposure to triptans in utero has no negative impact on children's temperament, communication, or behavior at 5 years of age, according to a recent study published in Paediatric and Perinatal Epidemiology.
The Norwegian Mother and Child Cohort Study (MoBa) is a population-based, prospective, pregnancy cohort study of more than 100,000 mothers and children, which was conducted by the Norwegian Institute of Public Health. Initially, 41% of all women who were eligible (ie, pregnant between 1999 and 2008) chose to participate. The current study used the MoBa data to find an analytic sample of 3784 women with migraine who completed the medication exposure questionnaires in pregnancy and the questionnaires about their children at age 5. These women were divided into 3 groups: those who used triptans to treat migraine during pregnancy (n=353, 9.3%), women who experienced migraine in pregnancy but did not take triptans (n=1509, 39.9%), and women who only experienced migraine before pregnancy (n=1922, 50.8%).
Neurodevelopmental outcomes for the study were determined using the short version of the Child Behavior Checklist included in the MoBa, the Ages and Stages Questionnaire, and the Emotionality Activity and Shyness Temperament Questionnaire. Several sensitivity analyses were performed: to address potential confounding due to paracetamol exposure, to examine the differences in development between triptan use and active but untreated migraine, and to quantify the possible impact of selection bias. Sociodemographic differences between the groups were few. The women who took triptans in pregnancy were slightly older than the comparison group, were less likely to be first-time mothers than the women who only experienced migraine before pregnancy, and were more likely to be first-time mothers than the women who did experience migraine but did not take triptans.
The data analysis indicated no negative outcomes from triptan exposure during pregnancy. The only neurodevelopmental differences found were a slightly lower risk of externalizing problems for the children exposed to triptans compared with the children in the 2 comparison groups, and a higher degree of sociability among triptan-exposed children compared with the children of mothers with untreated migraine, although this same association was not found when the triptan-exposed group was compared with the children of mothers who only experienced migraine before pregnancy.
Despite study limitations, such as the selection bias resulting from the unknown factors leading to participant dropout and the fact that outcomes were parent-reported, the results do suggest that the communication, temperament, and behavior of 5-year-old children were not adversely affected by exposure to triptans in utero.
Study investigators conclude, "These findings may assist patients and clinicians when assessing the options for management of migraine during pregnancy."
Reference
Harris G-M, Wood M, Ystrom E, Nordeng H. Prenatal triptan exposure and neurodevelopmental outcomes in 5-year-old children: Follow-up from the Norwegian Mother and Child Cohort Study [published online March 23, 2018]. Paediatr Perinat Epidemiol. doi: 10.1111/ppe.12461.