July 13, 2017
Evaluating Cerebral Blood Flow Velocity During Migraine Headache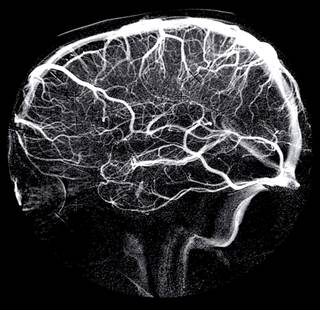 Researchers examined whether spontaneous migraine attacks are associated with changes in cerebral blood flow velocity.
Overall blood flow velocity remains unchanged during migraine headache, although blood flow velocity may be decreased early on in the attack, according to a study published in Headache.1
According to the vascular theory for migraine, migraine attacks are associated with intracranial and extracranial arterial dilatation.2 A recent study using magnetic resonance angiography suggested that slight dilatation of the intracranial arteries may occur during migraine attacks.3
Historically, transcranial Doppler (TCD) ultrasound techniques have been commonly used to assess intracranial arterial diameter during migraine attacks by measuring blood flow velocity, which acts as a marker of blood vessel diameter if cerebral blood flow remains unchanged. Decreased blood flow velocity correlates with arterial dilatation. However, studies using TCD to evaluate intracranial vasodilatation during migraine report conflicting results.1
Researchers examined whether spontaneous migraine attacks are associated with changes in cerebral blood flow velocity in the middle cerebral artery on TCD in a systematic review.1
Of 17 studies that were included in the analysis, 11 reported data on migraine without aura, 9 on migraine with aura, and 4 on mixed migraine with and without aura, for a total of 24 subgroups.1
The majority (63%) of subgroups found no change in cerebral blood flow velocity during spontaneous migraine. One-third of subgroups reported decreased blood flow velocity, and 4% (1 study) described increased blood flow velocity.1
The studies that found decreased blood flow velocity during migraine performed TCD earlier in the migraine attack (mean time, 4.1 h) than did the studies that found no change (mean time, 6.0 h). Decreased blood flow was noted at earlier stages of migraine among patients with migraine with aura than among patients with migraine without aura. The investigators proposed that hypoperfusion, or decreased cerebral blood flow, during the aura phase of migraine with aura may account for this observation.1
"Most of the TCD studies showed no differences in the [blood flow velocity] in [middle cerebral artery] during spontaneous migraine attacks. The time from onset of attack to examination could be important to detect possible early changes in the [blood flow velocity]," the investigators wrote.1
"To shed more light on the vascular changes in migraine, different phases of migraine attacks in a single type of migraine should be investigated in future TCD studies," they added.1
Disclosures: Several authors report financial relationships with Allergan, Amgen, Alder, ATI, Eli Lilly, Lundbeck Foundation, Novo Nordisk Foundation, Teva Pharmaceuticals, and Avanir Pharmaceuticals.
References
Shayestagul NA, Christensen CE, Amin FM, Ashina S, Ashina M. Measurement of blood flow velocity in the middle cerebral artery during spontaneous migraine attacks: a systematic review. Headache. 2017;57(6):852-861. doi: 10.1111/head.13106
Asghar MS, Hansen AE, Amin FM, et al. Evidence for a vascular factor in migraine. Ann Neurol. 2011;69(4):635-645. doi: 10.1002/ana.22292
Amin FM, Asghar MS, Hougaard A, et al. Magnetic resonance angiography of intracranial and extracranial arteries in patients with spontaneous migraine without aura: a cross-sectional study. Lancet Neurol. 2013;12(5):454-461. doi: 10.1016/S1474-4422(13)70067-X