October 02, 2014
Migraine Patients are Likely to Have Depression, Anxiety
the Neurology Advisor take:
Migraine patients are between two to five times more likely to suffer from symptoms of depression and anxiety than people without migraines.
About 25% of people with migraines have depression, and about 50% have anxiety. Symptoms of depression and anxiety are most common in patients with chronic migraine, characterized by frequent migraine attacks with at least 15 days of headache each month. If a patient has fewer migraines, depression or anxiety puts them at risk for increased headaches over time.
These disorders also have several other effects on migraine patients, including higher medical costs, increased risk of suicide, and higher levels of disability. Additionally, headache treatments are not as effective when a patient has untreated mood disorders.
Treating depression and anxiety begins with symptom recognition. These disorders can often manifest as physical symptoms; however, they often share symptoms with migraines. As a result, it's often better to look at feelings and thoughts to recognize mood disorder symptoms in migraine patients.
To treat depression and anxiety, patients have the option of several drugs therapies and behavioral treatments. Sometimes, a single treatment method will help the symptoms of depression/anxiety and headache. However, many patients require a combination of treatments.
A combination of different drugs or a combination of drug therapies and behavioral therapy may be the most effective treatment for a patient. Treatment should be personalized to a patient to help treat both their depression/anxiety and their headaches.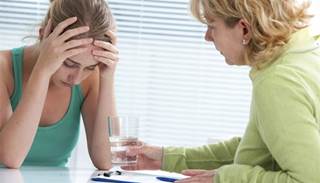 Migraine Patients are Likely to Have Depression, Anxiety
Many migraine patients suffer from symptoms of depression and anxiety, according to the American Headache Society. Migraine patients are between two to five times more likely to have these symptoms than patients without migraine. Researchers feel there is a connection between hormone levels, which are integral in both migraine and behavioral disorders like depression.
Next Article in Migraine and Headache
Sign Up for Free e-newsletters
Check out what's trending
CME Focus