January 05, 2015
Neurosurgeons Warn of New Neuroimaging Guidelines for Headache
the Neurology Advisor take:
A group of neurosurgeons have expressed concern over cost-cutting measures that aim to reduce neuroimaging for patients with headaches in fear that the loss of the discretionary services will adversely affect the detection of more serious neurological conditions like brain tumors.
The concern is directed at the Choosing Wisely guidelines developed by the American College of Radiology and Consumer Reports, which recommend that physicians not order imaging for common types of stable headache that show no other neurological abnormalities.
However, Ammar H. Hawasli, MD, of Washington University School of Medicine in St. Louis, and colleagues advise that patients with brain tumors "may present with isolated headaches in the absence of other neurological symptoms and signs," they wrote in an editorial published in Neurosurgery.
The clinicians demonstrated their point by analyzing 95 patients with brain tumor. Of the group, one-quarter presented with isolated headaches but no other symptoms or neurological abnormalities. Headache was the only symptom of brain tumor in 11 patients, four of which who had new-onset headache that would have qualified for neuroimaging under the proposed guidelines, and seven that had migraine or other types of headache where imaging is not recommended under the new guidelines. In all, about 3 to 7% of the patients with brain tumor would have had delayed neuroimaging—or none at all—under the new guidelines.
The physicians recommend further research be done to develop more accurate guidelines on neuroimaging for headaches so that patient outcomes aren't compromised by spending cuts.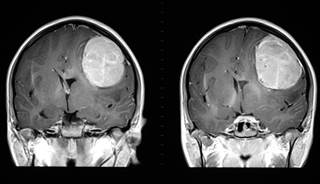 Neurosurgeons Warn of New Neuroimaging Guidelines for Headache
Multiple national initiatives seek to curb spending to address increasing healthcare costs in the United States. The Choosing Wisely initiative is a popular initiative that focuses on reducing healthcare spending by setting guidelines to limit tests and procedures requested by patients and ordered by physicians. To reduce spending on neuroimaging, the Choosing Wisely initiative and other organizations have offered guidelines to limit neuroimaging for headaches. Although the intentions are laudable, these guidelines are inconsistent with the neurosurgeon's experience with patients with brain tumor.
Next Article in Migraine and Headache
Sign Up for Free e-newsletters
Check out what's trending
CME Focus