November 13, 2017
Patent Foramen Ovale and Migraine: Is It Time to Close the Book?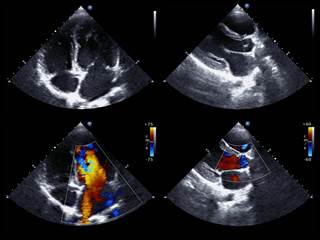 Findings from several clinical trials have failed to show a significant benefit of PFO closure for migraine.
Patent foramen ovale (PFO) refers to a natural hole between the left and right atrium of the heart that forms during gestation and normally closes in 3 out of 4 infants in the months after birth.1-3 For the remaining 25%, PFO remains incompletely closed, although it is not clear what the lifetime implications of this are.1-3 Risks are believed to decrease with age, as PFO tends to shrink in size over time. In the absence of other cardiac conditions, PFO is generally considered benign and left untreated.1-2
In recent years, however, research has suggested a link between migraine and the presence of PFO, with the suggestion that PFO closure surgery might be a preventive measure against future migraine attacks. Unlike stroke, migraine is not currently an indication for PFO closure.1 The interest in PFO closure has come from a number of observational studies that pointed to potential benefits in migraine, although 3 large randomized controlled trials all had negative outcomes for the primary end point of migraine prevention.4-6
A 2016 review by Tariq, et al7 reported on 14 observational studies that included 2602 patients with PFO and a migraine prevalence between 16% and 64%, and 20 studies of 2444 patients with migraine with a prevalence of PFO between 15% and 90%. The investigators reported that "the overall quality of these studies was poor." A third set of 20 studies involving 1194 patients showed little evidence that PFO closure offered a significant reduction in severity or frequency of migraine attacks. Over more than 15 years of investigations, the evidence has not substantially borne out the link between PFO and migraine, and of more importance, the link between PFO closure and migraine prevention. The 3 large randomized trials in patients with migraine mentioned earlier all showed small but insignificant improvement in migraine following PFO closure.4-6
The Migraine Intervention with STARFLex Technology (MIST) study compared results of PFO closure in 74 patients with migraine with aura to a sham intervention in 73 matched controls. This study failed to meet both primary and secondary end points of cessation of migraine and a ≥50% reduction in headache days 6 months following the procedure.4
The Percutaneous Closure of Patent Foramen Ovale in Migraine with Aura (PRIMA) study also failed to meet its primary end point of a ≥50% reduction in headache days at 12 months following PFO closure, although there was a mean reduction of –2.9 migraine days compared with –1.7 migraine days with standard medical management.5
Results of the randomized double-blind sham-controlled PREMIUM trial, which were presented at the American Headache Society 57th Annual Scientific Meeting, held June 18-21, 2015 in Washington, DC compared primary outcomes at 10 to 12 months of a ≥50% reduction in headache days in 123 patients undergoing PFO closure and 107 patients receiving standard medical treatment for migraine; however, the investigators found no differences in rates of response in either 2 group (38% vs 32%, respectively, P =.32).6
Although many of the studies suggested a more significant relationship between PFO and migraine with aura than without, "no significant differences were found in this systematic review favoring one over the other migraine type," Nauman Tariq, MD, assistant professor of neurology and director of the Headache Center at Johns Hopkins School of Medicine in Baltimore, Maryland, told Neurology Advisor. The lack of benefits associated with PFO closure demonstrated in the 3 studies further calls into question the concept of a neuropathologic link between PFO and migraine, he said. As he and his co-investigators pointed out in their review,7 "the vast majority of the general public with PFO never develop migraine."
Although Zier, et al1 concluded that "in the properly selected patient population there is growing clinical experience and experimental evidence suggesting that closure of PFO is a safe and effective treatment modality," the procedures used have all been associated with risks including the potential for cardiac perforation and infective endocarditis.
Complications requiring surgical interventions were also reported in 8% of patients treated with transcatheter procedures for PFO closure, in which 1 patient died as a result of ventricular perforation.2,8 Paradoxically, an observational study by Bhindi, et al9 of 57 patients reported increases in migraine in patients who experienced severe attacks just prior to the PFO closure procedure. These contradictory findings were attributed to the extended opening of the PFO during surgery and also pointed to a lack of heterogeneity among migraine patients in the studies.2,10,11 In general, the findings suggested a "significant change in the character of migraine" as a result of PFO closure that was not well understood.8
Despite what the evidence suggests, there speculation remains about the possible benefits of PFO closure in this population.
"There may be an as yet undetermined subgroup of patients with migraine who would benefit from closure, but slow recruitment [due to risks] has been a barrier to further study," Rayhill and Burch wrote in Current Neurology and Neuroscience Reports.12 And perhaps that is best, according to Dr Tariq. "I do not think further studies are needed. Much resources and time have been spent in the last 15 years trying to find a link between PFO and migraine as well as PFO closure hoping to treat migraine, and 3 randomized clinical trials are sufficient to answer that question," he said.
References
Zier LS, Sievert H, Mahadevan VS. To close or not to close: contemporary indications for patent foramen ovale closure. Exp Rev Cardiovasc Ther. 2016;14:1235-1244.
Gupta VK. Patent foramen ovale closure and migraine: science and sensibility. Expert Rev Neurother. 2010;10:1409-1422.
Hagen PT, Scholz DG, Edwards WD. Incidence and size of patent foramen ovale during the first 10 decades of life: An autopsy study of 965 normal hearts. Mayo Clin Proc. 1984;59:17-20.
Dowson A, Mullen MJ, Peatfield R, et al. Migraine Intervention With STARFlex Technology (MIST) trial: A prospective, multicenter, double-blind, sham-controlled trial to evaluate the effectiveness of patent foramen ovale closure with STARFlex septal repair implant to resolve refractory migraine headache. Circulation. 2008;117:1397-1404.
Hildick-Smith D. PRIMA trial (Percutaneous Closure of Patent Foramen Ovale In Migraine With Aura). Presented at: Transcatheter Cardiovascular Therapeutics (TCT 2014, September 13-17, 2014; Washington, DC.
Charles A. Results of the PREMIUM Trial: PFO closure with the AMPLATZER PFO Occluder for the prevention of migraine. Presented at: American Headache Society 57th Annual Meeting. June 18-21, 2015; Washington, DC.
Tariq N, Tepper SJ, Kriegler JS. Patent foramen ovale and migraine: closing the debate--a review. Headache. 2016;56:462-478.
Berdat PA, Chatterjee T, Pfammatter JP, Windecker S, Meier B, Carrel T. Surgical management of complications after transcatheter closure of an atrial septal defect or patent foramen ovale. J Thorac Cardiovasc Surg. 2000;120:1034-1039.
Bhindi R, Ruparelia N, Newton J, Testa L, Ormerod OJ. Acute worsening in migraine symptoms following PFO closure: a matter of fact? Int J Cardiol. 2010;144:299-300.
Yankovsky AE, Kuritzky A. Transformation into daily migraine with aura following transcutaneous atrial septal defect closure. Headache. 2003;43:496-498.
Rigatelli G, Cardaioli P, Dell'Avvocata F, Braggion G, Giordan M, Chinaglia M. Early post-procedural migraine attack predicts migraine resolution after patent foramen ovale transcatheter closure. Minerva Cardioangiol. 2008;56:461-465.
Rayhill M, Burch R. PFO and Migraine: is there a role for closure? Curr Neurol Neurosci Rep. 2017;17:20.