July 31, 2015
Smokers with Migraine May Have Increased Stroke Risk
the Neurology Advisor take:
Do smokers who experience migraines have an increased risk of stroke? A new report revealed that this seems to be the case -- another blow to the smoker community.
Published in the journal Neurology, the study, which examined the association between migraine and stroke outcomes, concluded that smoking and intense headaches could potentially work together to cause vascular changes within the body.
Researchers assessed participants from the Northern Manhattan Study for migraine symptoms using a self-report questionnaire, which was based on criteria from the International Classification of Headache Disorders, second edition.
Of the 1,292 participants with migraine data, 262 patients had migraine and 75 had migraine with aura. These individuals were monitored for 11 years. The average age of participants was 68.
During their analysis, researchers found an interaction between migraine and current smoking. They didn't, however, find this same connection with nonsmokers.

"Taken together, we suspect that a synergic action may occur between vascular changes of migraine and smoking as an effect modifier," the study's authors wrote in the report, "although further work is necessary to elucidate this association."

"While this investigation of migraine and vascular events in older people found that only smokers with migraine have an increased risk of stroke, earlier studies have shown that women younger than 45 who have migraine with aura are also at an increased risk of stroke, whether or not they smoke," said Teshamae Monteith, an author of the study, in a statement from the American Academy of Neurology, which publishes the peer-reviewed neurology journal.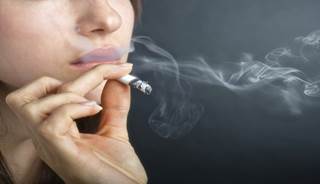 Smokers with Migraine May Have Increased Stroke Risk
Smokers who experience
migraines
have an increased risk of stroke, according to a new study. Smoking and the intense headaches could work together to cause vascular changes within the body, potentially interrupting blood supply to the brain, according to the study, published in the journal
Neurology
.
Next Article in Migraine and Headache
Sign Up for Free e-newsletters
Check out what's trending
CME Focus