March 06, 2018
Sumatriptan Self-Injection System No Longer Available
This article originally appeared
here.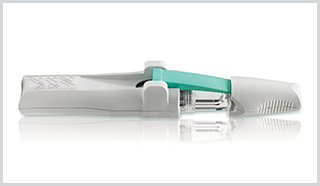 Sumavel DosePro, used for treating migraine and cluster headaches, has been discontinued.
Endo has made a business decision to discontinue Sumavel DosePro (sumatriptan injection) 6mg/0.5mL.
Sumavel DosePro was approved in 2009 for the acute treatment of migraine or cluster headaches as a needle-free delivery system supplied in prefilled pens. The 4 mg/0.5 mL formulation was previously discontinued in 2016; today's decision affecting the 6 mg/0.5 mL formulation is also not related to the product's quality, safety or efficacy.
Sumatriptan, a selective 5-HT1B/1D receptor agonist, presumably exerts therapeutic effects by binding to 5-HT1B/1D receptors located on intracranial blood vessels an sensory nerves of the trigeminal system. The agonist effects are thought to result in cranial vessel constriction and inhibition of pro-inflammatory neuropeptide release.
For more information call (800) 462-3636 or visit FDA.gov.