March 23, 2018
Palliative Care in Movement Disorders: Recommendations for Improvement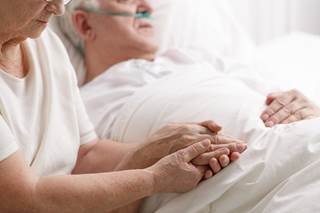 Current practices are inadequate in addressing important aspects of care for patients with parkinsonism syndromes and their caregivers.
Parkinsonism and its most common form, Parkinson disease (PD) — characterized by tremor, bradykinesia, rigidity, and postural instability — is associated with progressive disability and increased mortality, with symptom burden comparable to that of advanced cancer.1 Palliative care may be well suited to managing neurodegenerative disorders such as parkinsonism syndromes, as it improves the quality of life of patients and caregivers through identification, assessment, and management of problems.2,3
According to Benzi Kluger, MD, a neurologist from the University of Colorado, Denver, current practices do not address important aspects of care adequately for patients with parkinsonism syndromes and their caregivers. Whereas "motor symptoms are just the tip of the iceberg," he said, this component remains the primary focus of disease management, which leads to several unmet needs. Patient and PD advocate, Kirk Hall, concurred, telling Neurology Advisor that, "too many people are not adequately knowledgeable regarding PD and how to navigate their journey." Regarding end-stage disease, he said that, "many patients don't know where to start or [only] know a few things, but miss important pieces."
To address these inadequacies, the Parkinson Disease Foundation hosted an International Working Group meeting in October 2015 in Aurora, Colorado, bringing together clinicians, researchers, patients, and caregivers to discuss key issues in the application of palliative medicine to PD. Topics of discussion ranged from proposed models of palliative care specific to PD, effective intervention strategies for both patients and caregivers, prognostication for timely hospice referrals, as well as arenas of further research alongside application of standardized clinical research outcome measures.2
As a result, a cohort of patients and caregivers formed a council that compiled a report summarizing their suggestions toward practical implementation of palliative care. They endorsed the application of palliative approaches as early as the time of diagnosis, using a model of care that incorporates community organizations, primary care physicians, neurologists, and palliative care specialists into the management plan. The recommendation was made to describe the care as "supportive care" or "PD Life Enhancement" rather than "palliative care" to minimize negative responses by patients and caregivers. Additionally, goals of care were broken down for early-, middle-, and late-stage disease, with end-of-life care planning occurring during middle-stage disease and implementation of those plans occurring during late-stage disease. Suggestions for early-stage management included emotional support, education, and close follow-up.4
Clinicians and researchers also identified areas for improvement as well. For example, discussions addressed the paucity of available tools for predicting prognosis as well as lack of specific hospice eligibility guidelines, resulting in low rates of hospice use and high rates of hospital deaths. Given the propensity of unmet needs of both caregivers and patients, proposals were made of needs assessment strategies that allow rapid identification of unmet needs, appropriate triaging, and quantification of needs so that intervention responses can be measured. Additionally, needs-based referral was recommended rather than referral based on prognosis, stage, or specific events. Finally, team-based, interdisciplinary, problem-based intervention strategies were recommended.2
Importantly, initiatives to improve palliative care in parkinsonism have not been limited to PD. Diseases such as multiple system atrophy (MSA) and progressive supranuclear palsy have also been explored in relationship to palliative care practices. These diseases are noteworthy in their suitability to palliative approaches; the conditions are characterized by a significant and complex symptom burden with uncertain disease course because of their highly heterogeneous trajectories.3
Anita Dayal, MD, and colleagues, conducted a retrospective, non-concurrent cohort study at a neurology clinic in London, Ontario, Canada, to evaluate current palliative approaches for patients with MSA, as well as propose a framework for improvement. In their paper, published in the Canadian Journal of Neurological Sciences, the investigators commented that the study "shows clear gaps in the current approach to advance care planning, goals of care, and palliative care discussion in patients living with MSA." For example, important discussions occurred late in the course of the disease, often when the patient no longer had the ability to participate. Furthermore, physicians provided scant documentation of do not resuscitate and end-of-life planning discussions.5
Dayal and colleagues proposed a framework that integrates palliative care at the early stages of MSA, including designation of a person other than the patient who will be involved in healthcare discussions. Education should be provided, a support person who will be involved in healthcare discussions should be identified, and discussion should occur regarding end-of-life care preferences. Timing of referral to specialized palliative care services should be determined; some patients may be referred at the early stages of the disease, whereas others may receive a referral when severe symptoms emerge, such as dysphagia, stridor, or increasing falls. Improved documentation of all discussions was highly recommended.5 These recommendations were further corroborated in an article published in Parkinsonism and Related Disorders, including provision of support throughout the illness and involvement of generalists and specialists. The authors also addressed the importance of responding to caregiver needs.3
Further research is needed to optimize palliative care in movement disorders in several domains, including a better understanding of disease trajectories and predictors of death, the role of interventions in improving or worsening outcomes, development of validated needs assessment tools and hospice guidelines, and understanding what factors result in better or worse outcomes for quality of life.2, 3
References
Poewe W, Seppi K, Tanner CM, et al. Parkinson disease. Nat Rev Dis Primers. 2017;3:17013.
Kluger BM, Fox S, Timmons S, et al. Palliative care and Parkinson's disease: meeting summary and recommendations for clinical research. Parkinsonism Relat Disord. 2017;37:19-26.
Wiblin L, Lee M, Burn D. Palliative care and its emerging role in multiple system atrophy and progressive supranuclear palsy. Parkinsonism Relat Disord. 2017;34:7-14.
Hall K, Sumrall M, Thelen G, Kluger BM. Palliative care for Parkinson's disease: suggestions from a council of patient and carepartners. NPJ Parkinson's Dis. 2017;3:16.
Dayal AM, Jenkins ME, Jog MS, Kimpinski K, MacDonald P, Gofton TE. Palliative care discussions in multiple system atrophy: a retrospective review. Can J Neurol Sci. 2017;44:276-282.