April 08, 2015
Typing Patterns May Help Diagnose Parkinson's Disease
the Neurology Advisor take:
Researchers at the Massachusetts Institute of Technology have developed an algorithm that can detect impairment in motor function, and potentially diagnose early-onset Parkinson's disease, based on the way a person types on a keyboard.
The algorithm for analyzing keystrokes was able to distinguish between typing in the middle of the night, when sleep deprivation negatively impacts motor skills, and when fully rested. Although the experiment the researchers conducted focused on the effects of fatigue on motor skills, they wrote in Scientific Reports that it also marks a first step in using keystroke patterns to diagnose conditions impacted by motor function impairment, such as Alzheimer's.
And preliminary results from a study of 21 Parkinson's patients and 15 healthy controls found that there were greater variations in the keystrokes of the Parkinson's group compared to the healthy cohort.
In the study, the researchers weren't concerned with typing speed, but how long a finger is held down on each key. Their reasoning is that that rate at which one presses down and then releases their finger from a key can indicate the brain's quickness at controlling muscles.
And the researchers say the algorithm could potentially evaluate people for other diseases that involve motor impairment, such as rheumatoid arthritis.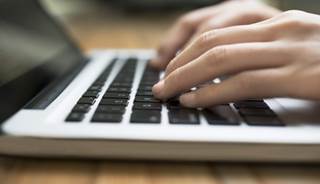 Typing Patterns May Help Diagnose Parkinson's Disease
Analyzing people's keystrokes as they type on a computer keyboard can reveal a great deal of information about the state of their motor function, according to a new study from MIT.
In a paper appearing in Scientific Reports, the researchers found that their algorithm for analyzing keystrokes could distinguish between typing done in the middle of the night, when sleep deprivation impairs motor skills, and typing performed when fully rested.
While this study focused on the effects of fatigue, it also represents a first step toward using keystroke patterns to diagnose conditions that impair motor function, such as Parkinson's disease, much earlier than is now possible, the researchers say.
Next Article in Movement Disorders
Sign Up for Free e-newsletters
Check out what's trending
CME Focus