November 11, 2014
Anti-NMDA May Promote Cognitive Impairment in Some MS Cases
the Neurology Advisor take:
Cognitive issues are a common occurrence in patients with multiple sclerosis, however, symptoms that present very early and progress rapidly should be cause for concern.
Researchers in Germany detailed the case of a woman who developed cognitive deficits at age 37. The patient was treated aggressively with therapies including natalizumab, cyclophosphamide, and mitoxantrone, but there was no improvement.
Upon re-evaluation, anti-N-methyl-D-aspartate (NMDA) antibodies were found in samples of her cerebrospinal fluid, which were taken soon after her cognitive impairment surfaced. The autoantibodies are a "characteristic laboratory finding of anti-NMDA receptor encephalitis," the researchers wrote.
The researchers noted that the patient stopped treatment with natalizumab for risk of progressive multifocal leukoencephalopathy, and then developed a fulminant MS relapse that included an increase in anti-NMDA antibody titers that could have been related to the natalizumab therapy withdrawal.
Natalizumab suppresses CD138-postive plasma cells, which led the researchers to conclude that the therapy withdrawal could have facilitated entry of NMDA receptor antibody-producing plasma cells.
The patient represents only the second known case of anti-NMDA encephalitis in an MS patient, and the first in which antibodies targetd the receptor complex's NR21 subunit.
The researchers recommend that clinicians consider causes outside of the MS disease process when observing premature or rapidly progressive cognitive deficits, since comorbid conditions may be going untreated in MS patients where cognitive impairment is to be expected.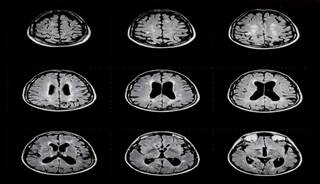 Anti-NMDA May Promote Cognitive Impairment in Some MS Cases
Prematurely severe cognitive impairment in multiple sclerosis patients could be an effect of autoantibodies against the N-methyl-D-aspartate (NMDA) receptor complex, with natalizumab (Tysabri) withdrawal a potential contributor, a case report from Germany suggested.
In an MS patient who had to be confined to a nursing home at age 39 because of cognitive deficits amounting to dementia, immunoglobulin G-type antibodies to the NMDA receptor's NR1 subunit were found in cerebrospinal fluid samples, according to Klemens Ruprecht, MD, of Charité-Universitätsmedizin Berlin, and colleagues.
Next Article in Multiple Sclerosis
Sign Up for Free e-newsletters
Check out what's trending
CME Focus