November 26, 2014
Fingomolid Increases Varicella-Zoster Risk in Multiple Sclerosis
the Neurology Advisor take:
Patients being treated with fingolimod for multiple sclerosis (MS) have a higher risk of developing varicella-zoster virus (VZV) than those taking placebo, however the overall risk remains low.
Prevention and management of VZV infections is increasingly important as new MS treatments that affect T-cell-mediated immunity come to market. Early identification of VZV symptoms is necessary to provide timely antiviral treatment.
Ann M. Arvin, MD, of the department of pediatrics at Stanford University School of Medicine, and colleagues analyzed data from fingolimod clinical trials and uncontrolled extension phases. Participants in the clinical trials, all of which were diagnosed as having relapsing-remitting MS, received fingolimod at a dosage of 0.5 or 1.25 mg/d, interferon beta-1a, or placebo. Patients in the postmarketing setting received fingomolid, 0.5 mg/d.
In clinical trials, rate of VZV infection were low overall but higher in the fingomolid group compared with the placebo group (11 vs. 6 per 1,000 patient-years). The results from the extension phases and postmarketing settings were comparable and stable. Reporting of herpes zoster infection was higher in patients receiving fingomolid compared to patients taking other disease-modifying treatments, but the proportion of serious herpes zoster infections was not higher in fingomolid compared to other treatments.
The researchers found no sign of increased risk with longer exposure, and serious or complicated cases were rare. The researchers recommend that clinicians evaluate the patient's VZV immune status prior to beginning fingomolid therapy. Patients susceptible to primary VZV infection should be immunized. An individualized risk-benefit assessment should be conducted if corticosteroid therapy is to be used beyond three to five days.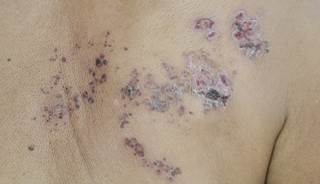 Fingomolid Increases Varicella-Zoster Risk in Multiple Sclerosis
Varicella-zoster virus (VZV) infections increasingly are reported in patients with multiple sclerosis (MS) and constitute an area of significant concern, especially with the advent of more disease-modifying treatments in MS that affect T-cell–mediated immunity.
Ann M. Arvin, MD, of the department of pediatrics at Stanford University School of Medicine, and colleagues assessed the incidence, risk factors, and clinical characteristics of VZV infections in fingolimod-treated patients and provide recommendations for prevention and management.
Calculation of the incidence rate of VZV infection per 1000 patient-years was based on the reporting of adverse events in the trials and the postmarketing setting.
Next Article in Multiple Sclerosis
Sign Up for Free e-newsletters
Check out what's trending
CME Focus