September 29, 2014
Glialogix, Fast Forward Partner for MS Therapies
the Neurology Advisor take:
San Francisco Bay Area-based biopharma company Glialogix has entered into a sponsored research agreement with the Multiple Sclerosis Society's Fast Forward nonprofit that works to accelerate the development of treatments for multiple sclerosis.
The agreement will see Fast Forward provide funding to Glialogix for preclinical trials of its GLX1112 therapy that directly protects neurons to slow the accumulation of disability in progressive MS, in which chronic neurodegeneration occurs resulting in a steady accumulation of disability. Presently, drugs that are effective in treating cases of relapsing multiple sclerosis have little to no efficacy in progressive multiple sclerosis.
Approved therapies for relapsing MS primarily target the peripheral immune system, while Glialogix claims that its GLX1112 therapy protects neurons directly. The neuroprotective function of GLX1112 may also be useful in treating other neurodegenerative diseases.
Further research funded by Fast Forward will include advanced pharmacokinetic testing preclinical models and mechanistic studies of the GLX1112 oral therapy.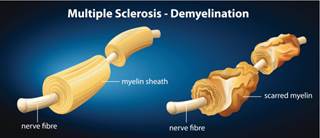 Glialogix, Fast Forward Partner for MS Therapies
Glialogix has partnered with the National Multiple Sclerosis Society's Fast Forward nonprofit to develop treatment therapies for progressive MS, including the acceleration of clinical trials of its GLX1112 oral therapy.
Next Article in Multiple Sclerosis
Sign Up for Free e-newsletters
Check out what's trending
CME Focus