April 30, 2018
Alemtuzumab Associated With Acute Acalculous Cholecystitis, Ischemia in Relapsing-Remitting MS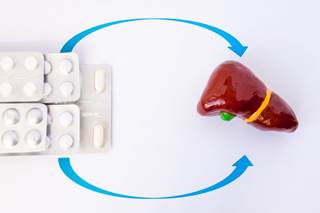 Alemtuzumab, an anti-CD52 monoclonal antibody, is approved for the treatment of relapsing forms of multiple sclerosis.
Among patients with relapsing-remitting multiple sclerosis (RRMS), acute acalculous cholecystitis (AAC) and cardiac ischemia are adverse events (AEs) potentially associated with the use of alemtuzumab, according to a recent study1 and case report2 published in Neurology.
Investigators searched the US Food and Drug Administration's Adverse Event Reporting System (FAERS), a voluntary reporting system with more than 14 million postmarketing AE reports, for incidences of AAC among patients treated with alemtuzumab.1 Additionally, clinical literature databases were searched for other case reports that were not reported in FAERS.
A total of 8 spontaneous cases of AAC associated with alemtuzumab administration were found in the reporting system and the literature, and all cases included patients with RRMS. Four cases were deemed as having "probable" and the other 4 as having "possible" causal associations with alemtuzumab, according to criteria from the FDA's Division of Pharmacovigilance for causality assessment. According to the investigators, an acute cytokine release syndrome may have been a putative pathogenic mechanism driving 7 cases of AAC during or immediately following treatment.1
In another case report of a patient with RRMS, a young woman had developed cardiac ischemia during an infusion of alemtuzumab.2 The case authors believed there to be a causal association between the alemtuzumab treatment and the cardiac event. In this case, it was suggested that alemtuzumab treatment increases both myocyte and endothelial membrane vasodilation and permeability as caused by cytokine-release syndrome, thereby resulting in myocardial ischemia. The authors of this case study suggest that "treating clinicians could consider performing a baseline preinfusion ECG and monitoring heart rate at least hourly during alemtuzumab infusion in patients with [RR]MS."2
In an accompanying editorial comment by Muraro et al, clinicians and patients are advised to report adverse events that are associated with alemtuzumab use to help further the understanding of the risks associated with treatment.3 In doing so, this may lead to "better understanding of the risks [that] will be important in guiding clinicians and patients to make informed treatment decisions that balance the benefits and risks of novel medications."3
References
Croteau D, Flowers C, Kulick CG, Brinker A, Kortepeter CM. Acute acalculous cholecystitis: a new safety risk for patients with MS treated with alemtuzumab [published online March 30, 2018]. Neurology. doi: 10.1212/WNL.0000000000005422
Ferraro D, Camera V, Vitetta F, et al. Acute coronary syndrome associated with alemtuzumab infusion in multiple sclerosis [published online March 30, 2018]. Neurology. doi: 10.1212/WNL.0000000000005417
Muraro PA, Scolding NJ, Fox RJ. Rare side effects of alemtuzumab remind us of the need for postmarketing surveillance [published online March 30, 2018]. Neurology. doi: 10.1212/WNL.0000000000005409