November 26, 2014
Mouse Model for Fatigue Has Implications for Multiple Sclerosis
the Neurology Advisor take:
Researchers have developed a new mouse model for fatigue which may have implications for multiple sclerosis (MS) treatment.
Female mice showed signs of fatigue when the pro-inflammatory cytokine interleukin-1β (IL-1β) was activated, reported Mary Harrington, PhD, of Smith College in Northampton, Mass., and colleagues.
The signs of fatigue occurred only in middle-aged and aged mice, and occurred in isolation from any signs of fever, muscle ache, or anhedonia. No significant changes were seen in young mice. The researchers also found that the treatment did not seem to affect the neurotransmitter orexin to induce fatigue. Thus, the mice did not respond well to medications that work on the arousal system.
Currently, there is no treatment for fatigue, which is one of the most common and debilitating symptoms of MS. Harrington noted that researchers may have been looking in the wrong place to find a biological cause for fatigue. She said that diseases characterized by fatigue are all linked to inflammation, which influenced her decision to work on IL-1β.
More research must be completed in order to verify the researchers' findings. The current results may help illuminate some of the key elements that generate fatigue and can be used for drug screening.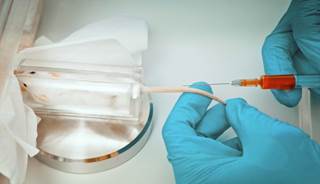 Mouse Model for Fatigue Has Implications for Multiple Sclerosis
There's a new animal model coming down the pike that may be of use to multiple sclerosis researchers. At the Society for Neuroscience (SfN) annual meeting in Washington, D.C., researchers announced that they have developed a new mouse model for fatigue. This is the first mouse model to isolate fatigue from other symptoms.
Fatigue is said to be the most common and debilitating symptom of multiple sclerosis. It's characterized less as sleepiness and more as an inability to function normally, even if the motivation is there.
Next Article in Multiple Sclerosis
Sign Up for Free e-newsletters
Check out what's trending
CME Focus