March 29, 2017
Ocrelizumab Approved for Progressive, Relapsing Multiple Sclerosis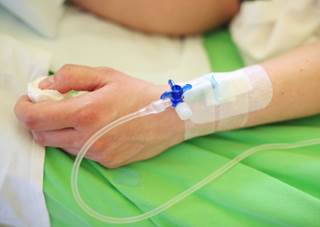 Ocrelizumab is the first drug approved for the treatment of progressive multiple sclerosis.
The US Food and Drug Administration has approved ocrelizumab for the treatment of relapsing-remitting multiple sclerosis (RRMS) and primary progressive multiple sclerosis (PPMS); it is the first drug to target the progressive form of the disease.1
Marketed as Ocrevus™, the drug is potentially a major breakthrough in the treatment of MS, significantly reducing signs of disease activity in patients with RRMS2 and reducing relative risk of disability progression by 24% in some patients with PPMS.3
The drug, which is administered via intravenous infusion every 6 months, is the first MS therapy to target CD20-positive B cells instead of T cells, which are the target of currently available therapies.
Efficacy was established in 3 phase 3 trials: OPERA I and OPERA II for RRMS2 and ORATORIO for PPMS.3 In the OPERA studies, patients who were randomly assigned to receive ocrelizumab experienced a 46% and 47% reduction (in OPERA I and OPERA II, respectively) in annualized relapse rate over 2 years compared with patients who were given interferon beta-1a (P <.0001), as well as a 40% relative risk reduction in confirmed disability progression sustained for 12 weeks (P =.0006). Patients taking ocrelizumab also experienced a 94% and 95% reduction in each OPERA trial in the total number of T1 gadolinium-enhancing lesions and a 77% and 83% reduction in new and/or enlarging T2 lesions compared with patients receiving interferon beta-1a (all P <.0001).
In the ORATORIO trial, which included 732 patients with PPMS, treatment with ocrelizumab resulted in a 24% relative risk reduction in confirmed disability progression sustained for at least 12 weeks compared with placebo (P =.0321). Patients taking ocrelizumab also experienced a mean change of -0.39 cm3 in hyperintense T2 lesion volume compared with a mean 0.79 cm3 change in volume in patients taking placebo over 120 weeks (P <.0001). There was a 25% relative risk reduction in the proportion of patients who experienced a 20% worsening of the timed 25-foot walk test at 12 weeks.
The most common adverse effects observed in all phase 3 studies included infusion reactions and upper respiratory infections. Serious adverse effects associated with ocrelizumab include risk of progressive multifocal leukoencephalopathy, hepatitis B reactivation, and an increased risk of some malignancies, including breast cancer.
References
FDA approves new drug to treat multiple sclerosis [news release]. US FDA newsroom; March 29, 2017. https://www.fda.gov/NewsEvents/Newsroom/PressAnnouncements/ucm549325.htm
Hauser SL, Bar-or A, Comi G, et al. Ocrelizumab versus interferon beta-1a in relapsing multiple sclerosis. N Engl J Med

. 2017; 376:221-234. doi: 10.1056/NEJMoa1601277

Montalban X, Hauser SL, Kappos L, et al. Ocrelizumab versus placebo in primary progressive multiple sclerosis. N Engl J Med

. 2017; 376:209-220. doi: 10.1056/NEJMoa1606468