February 18, 2015
Peptide May Restore Myelin, Prevent Neuron Death in Multiple Sclerosis
the Neurology Advisor take:
Researchers have uncovered a new peptide that reduces nerve cell damage in multiple sclerosis and may lead to new treatment targets.
Scientists from the Centre for Addiction and Mental Health in Toronto analyzed spinal cord tissue from deceased multiple sclerosis (MS) patients and animal models. They found a spinal cord alteration that involved a protein binding to a specific cell receptor that is associated with glutamate, the most prominent neurotransmitter. The alteration was found in high concentrations in MS patients and animal models compared to controls.
Researchers created a new peptide in order to try and disrupt the spinal cord change. In the animal model, the new peptide reduced neuron death, saved the integrity of myelin, and increased the survival of myelin-producing cells. Motor function was significantly better in the animal models treated with the peptide compared to controls.
Notably, the new peptide did not appear to suppress the immune system and did not impair neuron transmission in the brain, which is a common side effect of therapies targeting the glutamate system.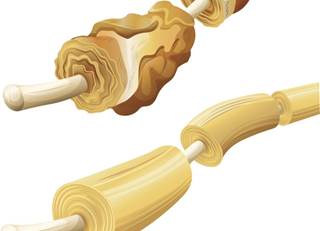 Peptide May Restore Myelin, Prevent Neuron Death in Multiple Sclerosis
More than 2.3 million people worldwide are living with multiple sclerosis, a debilitating condition triggered by damage to nerve cells in the central nervous system. But in a new study published in the Annals of Clinical and Translational Neurology, researchers say they may have found a way to reduce this nerve cell damage, paving the way for new treatments for the disease.
Multiple sclerosis (MS) is a progressive neurological disease most commonly diagnosed between the ages of 20 and 50.
While the exact cause of the condition is unclear, it is known to be triggered by an autoimmune response that causes inflammation in the central nervous system.
Next Article in Multiple Sclerosis
Sign Up for Free e-newsletters
Check out what's trending
CME Focus