January 06, 2017
Potential Prognostic Biomarker for Clinically Isolated Syndrome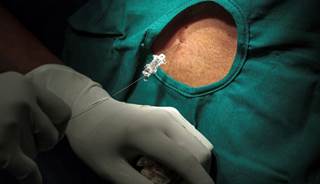 Levels of CSF CD27 were an independent predictor of time to MS diagnosis.
Elevated soluble CD27 (sCD27) levels in cerebrospinal fluid (CSF) from patients with clinically isolated syndrome (CIS) are associated with an increased risk of progression to multiple sclerosis (MS) and a higher relapse rate according to a new prospective study.1
Due to the heterogeneity of MS, there is a need for biomarkers that have been validated and applied clinically.2 This need is particularly evident in patients who undergo their first symptom of central nervous system demyelination (CIS) for which disease-modifying therapies could be used. However, adverse effects are associated with the use of these therapies; therefore, withholding them in nonprogressive CIS seems prudent.1
According to the authors, sCD27 is a biomarker of active intrathecal T-cell-mediated inflammation. Additionally, CSF levels of sCD27 are significantly higher in patients with MS compared with symptomatic controls.3
Roos van der Vuurst de Vries, MD, and colleagues from the Netherlands sought to answer the question of whether CSF sCD27 levels in patients with CIS were associated with progression to MS or relapse rate.The prospective study included 77 patients with CIS and 30 age-matched and sex-matched symptomatic controls over an average of 52.4 months of follow-up.
CSF sCD27 levels were higher in patients with CIS vs controls (mean = 31.3 U/mL; 95% CI: 24.0-40.9 vs 4.7 U/mL; 95% CI: 2.9-7.5; P <.01).
CSF sCD27 levels were also higher in patients with CIS who were diagnosed with MS (n = 39) compared with those who remained with CIS (n = 38) (mean = 42.0 U/mL; 95% CI: 29.1-50.6 vs 23.2 U/mL; 95% CI: 15.8-33.9; P =.03).
After adjusting for magnetic resonance imaging (MRI) and CSF measurements, regression analysis revealed that sCD27 was an independent predictive factor for time to MS diagnosis (HR: 2.4 per 100 U/mL increase of sCD27; 95% CI: 1.27-4.53; P =.007). Also, patients with MS and high sCD27 levels (median: >31.4 U/mL) at the time of CIS had an annualized relapse rate 5.5-times higher than patients with low sCD27 levels.
The authors concluded that "CSF sCD27 could be an activation marker directly related to the immunopathology of the disease, with potential value for selecting patients with higher subsequent disease activity."
In an editorial4 on the new study, Jeffrey Gelfand, MD, stated that "high CSF sCD27 is present in the same patients who already have high-risk MRI findings and oligoclonal bands." He also comments that the test did not help in "predicting MS conversion risk in the 10 patients with a normal MRI and positive oligoclonal bands." Dr Gelfand concluded by advising further research is needed to determine whether CSF sCD27 "can provide added or purely complementary prognostic value."
References
van der Vuurst de Vries RM, Mescheriakova JY, Runia TF, Jafari N, Siepman TAM, Hintzen RQ. Soluble CD27 levels in cerebrospinal fluid as a prognostic biomarker in clinically isolated syndrome [published online January 3, 2017]. JAMA Neurol. doi:10.1001/jamaneurol.2016.4997
Comabella M, Montalban X. Body fluid biomarkers in multiple sclerosis. Lancet Neurol. 2014;13(1):113-126.
Komori M, Blake A, Greenwood M, et al. Cerebrospinal fluid markers reveal intrathecal inflammation in progressive multiple sclerosis. Ann Neurol. 2015;78(1):3-20.
Gelfand, J. Risk of multiple sclerosis after a clinically isolated syndrome [published online January 3, 2017]. JAMA Neurol. doi:10.1001/jamaneurol.2016.5143