January 09, 2015
University of Edinburgh, Genzyme Collaborate on Multiple Sclerosis Research
the Neurology Advisor take:
Scientists from the University of Edinburgh are teaming up with leading biotechnology company Genzyme to research new drugs that can reduce neuron damage, particularly in multiple sclerosis (MS).
In people with MS, there is damage to myelin, which protects nerve fibers. When myelin is damaged, electrical signals from the brain are not properly transmitted to the rest of the body, resulting in symptoms such as issues with muscle movement, balance, and vision. The damage accrues over time, resulting in worsening symptoms for patients with MS. The collaboration is looking for new therapies that can encourage remyelination, which repairs damaged myelin, and reduce neurodegeneration.
Researchers at the University of Edinburgh have already identified a physiologically-occurring molecule that impedes remyelination by preventing necessary cells from reaching damaged areas of the brain. Through the collaboration, they hope to discover inhibitors of this molecule or its reception in order to allow myelin-repairing cells to reach the damaged areas.
"If successful, this will be a step-change in MS treatment as current treatments are unable to repair the damaged neurons that cause the symptoms of MS," said Anna Williams, PhD, BSc, of the MRC Centre for Regenerative Medicine.
If the collaboration yields an effective treatment, it will have implications for other diseases that involve damaged myelin, such as spinal cord injury.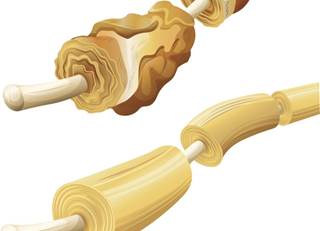 University of Edinburgh, Genzyme Collaborate on Multiple Sclerosis Research
University of Edinburgh scientists are set to work with leading biotechnology company Genzyme, a Sanofi company, to carry out drug discovery research that could reduce neuron damage in the brain.
The collaboration - facilitated by Edinburgh BioQuarter's Business Development team - will focus on identifying therapeutic candidates capable of promoting remyelination and reducing neurodegeneration, mostly in relation to Multiple Sclerosis (MS).
MS is caused by damage to myelin, the protective layer that surrounds nerve fibres. This damage affects the transmission of electrical signals from the brain to the rest of the body and results in symptoms such as problems with muscle movement, balance and vision. Over time MS patients accrue disability, which usually slowly gets worse - this is related to neurodegeneration.
Next Article in Multiple Sclerosis
Sign Up for Free e-newsletters
Check out what's trending
CME Focus