September 16, 2015
High Fish Consumption May Reduce Depression Risk
the Neurology Advisor take:
The benefits of omega-3 fatty acid are well known and recognized, but fish in general offer many more nutrients that are beneficial for general health and for specific conditions. One of the most contested, however, is depression.
In a meta-analysis, researchers from The Medical College of Qingdao University in China reviewed 26 studies involving 150,278 participants from five global regions. Twelve of the 26 studies indicated a significant association between fish consumption and depression, while the remaining 14 did not show an association.
The pooled relative risk (RR) of depression for the highest vs. lowest consumption of fish was 0.83 (95% CI 0.74 to 0.93). The findings remained significant in the cohort studies (RR=0.84, 95% CI 0.75 to 0.94, n=10) as well as in the cross-sectional studies (RR=0.82, 95% CI 0.68 to 1.00, n=16). When men and women were analyzed separately, a significant inverse association was found. During analysis of a subgroup, higher fish intake was associated with a significant reduced risk of depression only in studies conducted in Europe (RR = 0.72; 95% CI, 0.63 - 0.82), however the researchers believe this is just due to larger sample size, as RR for other continents suggested a reduced risk of depression as well despite nonsignificant results.
Overall, the meta-analysis indicated that high consumption of fish can reduce the risk of depression. The researchers noted that the fact that the studies looked at total fish consumption, and not just omega-3 fatty acid intake, makes the results noteworthy.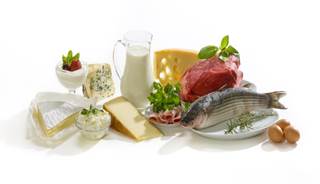 High Fish Consumption May Reduce Depression Risk
The association between fish consumption and risk of depression is controversial. Researchers performed a meta-analysis to evaluate the association.
Researchers from The Medical College of Qingdao University in China performed a literature search in PubMed, EMBASE and Web of Science database for all relevant studies up to March 2015. We pooled the relative risks (RRs) with 95% CIs from individual studies with random effects model, and conducted meta-regression to explore potential sources of heterogeneity. Publication bias was estimated by Egger's test and the funnel plot.
Next Article in Neurobehavioral Disorders
Sign Up for Free e-newsletters
Check out what's trending
CME Focus