March 11, 2015
Genetic Biomarkers Link PTSD to Immune System Response
the Neurology Advisor take:
Researchers have identified several genetic markers of post-traumatic stress disorder (PTSD) that are also associated with immune system response.
Using whole transcriptome RNA sequencing on blood samples from 188 U.S. marines both before and after deployment, the researchers identified a group of genes that regulated both the innate immune system and interferon signaling and are associated with PTSD. The group of genes was found both before and after a participant developed PTSD.
The findings were confirmed in a separate blood analysis of 96 Marines.
Previous research has looked at genetic biomarkers of PTSD in patients with and without the disorder, however the latest study hoped to better understand the dynamic relationships among the genes associated with the mental health condition.
In future studies, the researchers hope to uncover what is triggering the interferon signaling prior to the development of PTSD, suggesting that increased stress and higher viral loads could be the source of the immune reaction.
For now, profiling of molecular data could help identify people at risk for PTSD and hopefully lead to the development of a blood panel of biomarkers that can identify those at risk. Additionally, the molecular information could be used to create personalized prevention and treatment regimens.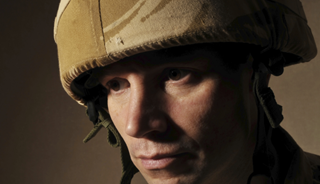 Genetic Biomarkers Link PTSD to Immune System Response
A new study of blood samples from US Marines has identified genetic markers associated with post-traumatic stress disorder that are also linked to the immune system response. The research team - from the US and UK - says the discovery could lead to new diagnostic techniques and treatments for the condition, as well as predict which individuals are most at risk for the disorder.
Post-traumatic stress disorder (PTSD) is a mental health condition that can occur after experiencing a terrifying event or situation. Violent assaults, accidents, natural or human-caused disasters and military combat are some common triggers of PTSD.
Next Article in Neurobehavioral Disorders
Sign Up for Free e-newsletters
Check out what's trending
CME Focus