August 04, 2015
iPad App May Improve Memory in Schizophrenia Patients
the Neurology Advisor take:
A new game created for the iPad tablet may help people with schizophrenia to improve their memory.
Barbara Sahakian, FSciMed, DSc, of the Department of Psychiatry at the University of Cambridge, United Kingdom, and colleagues developed Wizard over a nine-month period as part of a collaborative effort between psychologists, neuroscientists, a game developer and schizophrenia patients. The game is designed to improve episodic memory, which involves things such as where you last left your keys
Cognitive difficulties are common in those with schizophrenia, and often prevent them from returning to work or school. Medications only treat the psychiatric symptoms of the disease.
The memory improvement element was woven into the game's narrative in which a player is allowed to choose their own character and name. The game rewards progress with additional in-game activities to provide the user with a sense of progression independent of the cognitive training process.
Twenty-two people with schizophrenia were randomized to either play Wizard over four weeks for a total of eight hours, or receive treatment as usual. By the end of the study, the patients who had played Wizard made significantly fewer errors and needed significantly fewer attempts to remember the location of different patterns in a test compared to the control group, the researchers reported in the journal Philosophical Transactions of the Royal Society B.
"This proof-of-concept study is important because it demonstrates that the memory game can help where drugs have so far failed," Sahakian said in a statement. Because the game is interesting, even those patients with a general lack of motivation are spurred on to continue the training."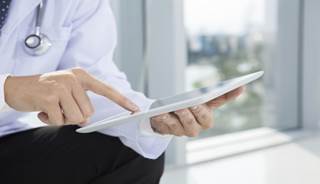 iPad App May Improve Memory in Schizophrenia Patients
A new brain training iPad game developed by researchers at the University of Cambridge may improve the memory of patients with schizophrenia, according to new research.
While the psychotic symptoms of schizophrenia are reasonably treated by current medications, patients are still left with debilitating cognitive impairments, including in their memory, and so are frequently unable to return to school or work, the researchers said.
They added that while there are no medications to improve cognitive function for people with schizophrenia, there is increasing evidence that computer-assisted training can help them overcome some of their symptoms, with better outcomes in daily functioning and their lives.
Next Article in Neurobehavioral Disorders
Sign Up for Free e-newsletters
Check out what's trending
CME Focus