March 16, 2015
Long Genes Over Expressed in Rett Syndrome
the Neurology Advisor take:
In Rett Syndrome, the absence of MeCP2 causes an over expression of long genes, according to a study published in Nature.
Scientists have already known that Rett Syndrome is caused by the absence of the MeCP2 protein, which regulates gene expression. However, they did not know which genes were affected. In this study, the researchers hoped to pinpoint the affected genes.
The researchers analyzed datasets of gene expression to search for patterns involving Rett Syndrome. They found that the genes disrupted in Rett Syndrome were often so-called long genes, or genes that are over 100,000 nucleotides in length.
After a more targeted analysis, the researchers found that the absence of MeCP2 increases the expression of long genes by 3% to 10%. Autopsied brains of people with Rett Syndrome confirmed the over expression of long genes. Additionally, they found that mice with Rett Syndrome that had more long genes had more severe symptoms.
The researchers also analyzed gene expression in MeCP2 Duplication Syndrome, where each cell has an extra copy of MeCP2. In this syndrome, they found that long genes are under expressed, providing further evidence that MeCP2 is integral for the regulation of long gene expression.
The researchers hope that their findings will create new avenues for treating Rett Syndrome and other MeCP2-related disorders. They have already begun testing topoisomerase inhibitors, a class of drugs that reduce long gene expression, in mice lacking MeCP2 with encouraging results.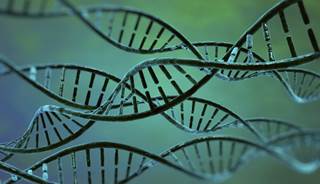 Genes
A new study suggests targeting long genes could be a new treatment avenue for the devastating childhood disorder Rett Syndrome. The authors found that lack of the MeCP2 protein that is the hallmark of the disease causes subtle - but widespread - overexpression of long genes with functions important for the brain.
Rett Syndrome is a brain development disease that begins to show symptoms within the first 12-18 months. The disease, which almost exclusively affect girls, involves a loss of intellectual, social and motor skills, accompanied by autistic behaviors, such as repetitive movement of the hands.
While it is believed that Rett Syndrome does not severely damage cognitive function, the disease deprives children of speech, hand use, and often the ability to walk. As development ensues, it brings anxiety, seizures, tremors, breathing difficulties, and severe gastrointestinal problems.
Next Article in Neurocognitive Disorders
Sign Up for Free e-newsletters
Check out what's trending
CME Focus