August 14, 2014
Similar Neurocognitive Deficits Present in ADHD, Substance Abuse, and Conduct Disorder
the Neurology Advisor take:
ADHD, substance abuse, and conduct disorder develop from the same neurocognitive deficits, according to a report published in Medical News Today.
Patricia Conrod, PhD, of the University of Montreal, and colleagues found that ADHD, substance abuse, and conduct disorder have the same neurocognitive origins, which explains why they occur together so frequently.
The study included 1,778 European participants aged 14 years, who had comparable demographic profiles. The participants were asked to undertake several tasks while undergoing an MRI and answer personality questionnaires. The researchers profiled the participants twice, once at the time of testing and again two years later.
At age 14 years, 4.4% of participants had a diagnosis of a conduct disorder, ADHD, or both. At the two-year mark, it rose to 6.6%.
At age 14, 3.7% of the participants had alcohol abuse, and 10.6% had substance abuse. By age 16, those numbers had risen to 18.0% and 27.1%, respectively.
Impulsive action, impulsive choice, and reward sensitivity were the three neurocognitive processes associated with ADHD, conduct disorder and substance abuse in statistical modeling. The findings suggest that these risk factors can be targeted in prevention and intervention to better treat comorbid cases.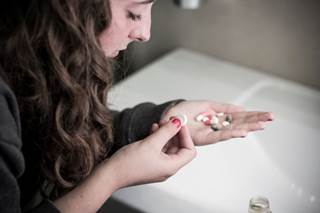 Similar Neurocognitive Deficits Present in ADHD, Substance Abuse, and Conduct Disorder
Researchers at the University of Montreal and CHU Sainte-Justine Research Centre have traced the origins of ADHD, substance abuse and conduct disorder, and found that they develop from the same neurocognitive deficits, which in turn explains why they often occur together.
"Psychopathology exists on multiple continua of brain function. Some of these dimensions contribute to a multitude of problems, others contribute to specific problems. Together, they explain patterns of comorbidity such as why ADHD and conduct problems co-occur with substance misuse at such a high rate," explained study author, Patricia Conrod.
Next Article in Neurocognitive Disorders
Sign Up for Free e-newsletters
Check out what's trending
CME Focus