November 02, 2015
Long-Term Exercise May Curb Brain Degeneration
the Neurology Advisor take:
Engaging in aerobic exercise over the long term may help alleviate some of the structural deterioration of the brain associated with aging.
Gareth Howell, PhD, and colleagues at The Jackson Laboratory in Bar Harbor, Maine, based their findings on experiments with mice. The rodents were provided with a running wheel from 12 months old, which is similar to middle ages in humans. Their brains were then examined at 18 months, which is about 60 years in humans, when the risk of Alzheimer's increases.
Researchers found age-related changes in the expression of genes relevant to vascular function and inflammation in the brain cortex.
Both young and old mice ran about 2 miles each night, which improved the ability and motivation of the old mice to engage in the spontaneous behaviors that seem to be affected by aging. Further tests showed that the loss of pericytes, cells that surround small capillaries and venules and maintain the blood-brain barrier, were not as pronounced in the older mice that exercised, the researcher reported in PLOS Biology.
However, mice which did not have the APoE genes, a risk factor for Alzheimer's, did not benefit from this exercise.
The results seem to indicate that aerobic exercise from middle to older age appears to preserve cerebrovascular health, prevent behavioral deficits and reduce age-related neuroinflammation in the cortex and hippocampus in aged mice.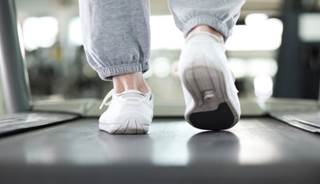 Long-Term Exercise May Curb Brain Degeneration
Structural deterioration of the brain associated with old age can be eased by long-term aerobic exercise starting in mid-life, according to research published in PLOS Biology.
Frailty and cognitive decline tend to accompany aging, and exercise is known to combat them. How this works is not completely understood, but the development of dementias such as Alzheimer's disease has been linked with physical inactivity.
The risk of dementia increases with age. Age-related cognitive deficits result partly from changes in neuronal function, but also correlate with deficiencies in the blood supply to the brain and with low-level inflammation.
Next Article in Neurodegenerative Diseases
Sign Up for Free e-newsletters
Check out what's trending
CME Focus