March 03, 2015
Strict Blood Pressure Control May Accelerate Cognitive Decline
the Neurology Advisor take:
Strict blood pressure control may exacerbate cognitive decline in older adults with preexisting mild cognitive impairment or dementia.
Over a mean follow-up of nine months, patients with systolic blood pressure (BP) levels of ≤128 mmHg had greater declines in Mini-Mental State Examination (MMSE) scores compared with those with BP levels of ≥129 mmHg. Additionally, lower BP levels were not associated with better health.
The study included 172 people aged 65 years and older with a mean age of 79. Of these, 68% had dementia and 32% had mild cognitive impairment. Approximately 70% of participants had been prescribed hypertensive medications.
The researchers found that the associations between BP and cognitive decline were only significant among participants taking hypertensive medications.
Due to the observational nature of the study, the researchers cautioned against making definitive statements. They noted that those taking hypertensive medications may have more cardiovascular pathologies that could independently lead to faster cognitive decline.
Randomized clinical trials will be needed to address any confounders, but the results indicate that BP management in older adults should move toward an individualistic approach that takes cognitive impairment and dementia into account.
Currently, the American Heart Association and the American College of Cardiology recommend that physicians follow the Seventh Joint National Committee thresholds of 140/90 mmHg.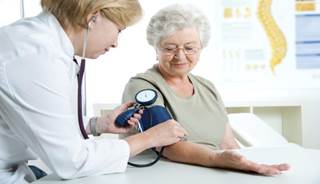 Strict Blood Pressure Control May Accelerate Cognitive Decline
Antihypertensive regimens that perhaps work a little too well were linked to faster cognitive decline among older adults with pre-existing dementia or mild cognitive impairment (MCI) in a cohort study.
Patients in the lowest tertile of daytime systolic blood pressure (128 mmHg or less) showed a greater decline in Mini-Mental State Examination (MMSE) score over a median 9 months than those in the middle tertile (129 to 144 mmHg) or those in the top tertile of 145 mmHg or higher — mean -2.8 points on the 30-point MMSE scale versus -0.7 in both higher groups (P=0.002 and P=0.003, respectively).
Next Article in Neurodegenerative Diseases
Sign Up for Free e-newsletters
Check out what's trending
CME Focus