November 14, 2014
Coroner Report Shows Robin Williams Had Lewy Body Dementia
the Neurology Advisor take:
Actor Robin Williams, who committed suicide on August 11, 2014, apparently had Lewy body dementia, according to a coroner's report that was released this week.
While his official cause of death was ruled asphyxiation by hanging, it was revealed in the days after his death that Williams was dealing with the early symptoms of Parkinson's disease, according to his wife Susan Schneider.
The diagnoses go hand in hand, as those with Parkinson's often are also diagnosed with Lewy body dementia (LBD) or other neurodegenerative diseases, like Alzheimer's. Symptoms of LBD include sleep disturbances, hallucinations and significant cognitive impairment. Sources close to Williams have stated that they believe he was suffering from hallucinations and possible side effects from the drug he was taking for his Parkinson's disease.
Williams wasn't the only A-lister found to be struggling with a neurologic condition this week. TV host and media personality Glenn Beck shared this week in an interview that he had been struggling with an unknown neurologic condition for at least the last five years that was characterized by intense pain and burning sensations in his limbs, sleep disturbances, macular dystrophy, tremors, seizures, and cognitive impairment.
The symptoms baffled doctors, said Beck, who underwent testing for traumatic brain injury and even possible poisoning. "I knew I was functioning at about the bottom 10 percent. I knew when I couldn't figure out simple math problems or remember a series of words I was in real trouble," he said in the interview.
Beck eventually moved to Texas, where he received experimental treatments at Carrick Brain Centers. The physicians there diagnosed Beck with an autoimmune disorder and adrenal fatigue, among other things, which they treated with diet and lifestyle changes and hormone therapy.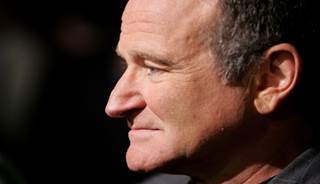 Coroner Report Shows Robin Williams had Lewy Body Dementia
Robin Williams had a common but difficult to diagnose condition known as Lewy Body Dementia and this may have contributed to his decision to commit suicide last August, according to documents included in his autopsy report.
The coroner in San Rafael, California, released its autopsy report as well as a pathology report from the University of California San Francisco documenting the comedian's condition. All people with LBD have dementia, and sometimes appear confused and disoriented and exhibit unusual behavior, said Angela Taylor, the director of programming for the Lewy Body Dementia Association.
Next Article in Neurodegenerative Diseases
Sign Up for Free e-newsletters
Check out what's trending
CME Focus