December 31, 2014
Genetics May Play Bigger Role in Amyotrophic Lateral Sclerosis
the Neurology Advisor take:
Genetics may account for up to one-third of amyotrophic lateral sclerosis (ALS) cases, a fraction that is larger than previously thought, according to a study published in the Annals of Neurology.
Previously, it had been estimated that up to 90% of ALS cases occur sporadically, without any genetic link. However, this new study challenges that number.
The study included 391 patients with ALS from the United States. The researchers used new techniques, called pooled DNA sequencing, to sequence 17 genes that are linked to ALS in each participant.
In these 17 genes, the researchers found 27 novel mutations as well as 38 others that are very rare among control populations. The variations were found in 64.3% of participants with a known family history of ALS and in 27.8% sporadic patients. The latter rate is significantly higher than rates found in other studies that used less compressive sequencing approaches.
The researchers also found that in the 3.8% of participants who had more than one ALS gene, disease onset was 10 years earlier compared with those with only one gene. In most of these cases, one mutation was a known ALS marker and the other had unknown significance.
The researchers hope that these results will help pinpoint genes to target for gene-specific therapies to correct these defects.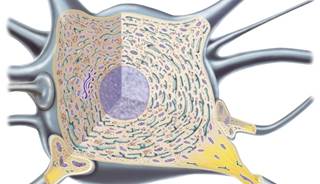 Genetics May Play Bigger Role in Amyotrophic Lateral Sclerosis
Genetics may play a larger role in causing amyotrophic lateral sclerosis (ALS) than previously believed, potentially accounting for more than one third of all cases, according to a new study.
The study, published online in the Annals of Neurology, also showed that patients with defects in two or more ALS-associated genes experience disease onset about 10 years earlier than patients with single-gene mutations.
For the study, researchers from Cedars-Sinai Medical Center, Los Angeles, California, and Washington University, St. Louis, Missouri, used new techniques known as pooled DNA sequencing to comprehensively sequence 17 known ALS genes in 391 patients with ALS from the United States.
Next Article in Neurodegenerative Diseases
Sign Up for Free e-newsletters
Check out what's trending
CME Focus