November 25, 2014
Gout May Lower Risk of Alzheimer's Disease
the Neurology Advisor take:
Gout may lower the risk of developing Alzheimer's disease thanks to the possible neuroprotective properties of uric acid, according to study results presented at the annual meeting of the American College of Rheumatology.
Hyon Choi, MD, DrPH, of Massachusetts General Hospital, and colleagues studied data from The Health Improvement Network, a medical records database representing the general population of the United Kingdom. The researchers compared 59,224 people with gout to 238,805 without gout (control), all with a mean age of 65.3 years. They identified gout diagnosis, outcomes, and dementia risk factors through the medical records.
Upon follow-up, 309 new cases of Alzheimer's disease were diagnosed in the gout group compared to 1,942 in the control group. After adjusting for variables including smoking, alcohol use and prior comorbid conditions, the multivariate hazard ratio of Alzheimer's among those with gout was 0.76 (95% CI 0.66 to 0.87) which results in a 24% lower risk of Alzheimer's in people with gout compared to those without.
Although no previous studies have explored the association between gout and Alzheimer's, a 2009 study published in Brain showed an inverse association between uric acid levels and risk of any dementia. High levels of serum uric acid were also associated with better cognitive function later in life.
Uric acid is previously known to be an antioxidant and has been shown to be protective against oxidative stress-induced dopaminergic neuron death in animal models. Uric acid is currently under investigation for the prevention of progressive Parkinson's disease.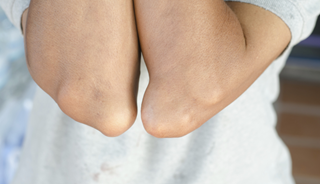 Gout May Lower Risk of Alzheimer's Disease
There may be a bright side to the excruciating pain of gout. New research, presented at the annual meeting of the American College of Rheumatology, suggests that patients diagnosed with this acute inflammatory arthritis face a lower risk of developing Alzheimer's disease (AD) compared with people without gout.
"Our findings provide the first population-based evidence for the potential protective effect of gout on the risk of AD, and support the neuroprotective role of uric acid," said Hyon Choi, MD, DrPH, the study's senior investigator, and director of epidemiology at Massachusetts General Hospital.
Next Article in Neurodegenerative Diseases
Sign Up for Free e-newsletters
Check out what's trending
CME Focus