January 04, 2018
Increased Midlife Triglyceride Levels Predictive of Alzheimer Disease Pathology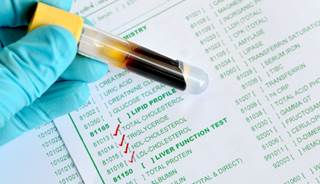 Patients in midlife with normal cognition and high levels of triglycerides had more abnormal beta-amyloid markers in CSF.
Increased triglyceride levels at midlife are predictive of the presence of β-amyloid (Aβ) and tau pathologies 20 years later in cognitively healthy individuals, according to the results of a recent longitudinal cohort study published in Neurology.
The current study sought to assess the impact of midlife lipid levels on Alzheimer disease (AD) brain pathology 20 years later in cognitively normal elderly individuals. A total of 318 participants with data available on fasting lipid levels at midlife (mean age, 54 years) were enrolled in the analysis. The presence of Aβ and tau pathologies 20 years later (mean age, 73 years) was identified by quantifying AD biomarkers in cerebrospinal fluid (CSF). In a subpopulation of 134 individuals, brain Aβ was also measured via positron emission tomography (PET) scans.
CSF Aβ42 and Aβ PET revealed the presence of Aβ in approximately 20% of the cognitively healthy population. The CSF Aβ42/phosphorylated tau (p-tau) ratio demonstrated both Aβ and tau pathologies in 16% of the healthy individuals.
Higher levels of triglycerides in midlife were significantly associated with abnormal CSF Aβ42 (odds ratio [OR] 1.34; 95% CI, 1.03-1.75; P =.029) and with abnormal Aβ42/p-tau ratio (OR 1.46; 95% CI, 1.10-1.93; P =.009), after adjusting for age, sex, APOE ε4 status, education, and vascular risk factors. Triglycerides were also associated with abnormal Aβ PET scans in multivariable regression models (P =.013 and P =.025, based on the model evaluated), but the association was somewhat decreased in the fully adjusted model.
An additional finding based on analysis of different lipoprotein subfractions in the blood of 117 participants showed that increased levels of medium and large low-density lipoprotein subfractions were significantly associated with abnormal Aβ PET scans (P <.05), whereas large high-density lipoprotein particles were associated with a decreased risk for abnormal Aβ PET scans (P <.05).
The investigators concluded that if the results of this study can be replicated, increased triglyceride levels may be a modifiable and easily measured risk factor for the pathology of AD.
Reference
Nägga K, Gustavsson A-M, Stomrud E, et al. Increased midlife triglycerides predict brain β-amyloid and tau pathology 20 years later [published online December 1, 2017]. Neurology. doi:10.1212/WNL.0000000000004749