January 05, 2015
Hypertension Adds to Genetic Risk in Alzheimer's Disease
the Neurology Advisor take:
For individuals with a genetic risk for Alzheimer's disease, hypertension can increase this risk by increasing the amount of beta amyloid in the brain, according to a study presented at the 7th Clinical Trials on Alzheimer's Disease (CTAD).
Individuals with the apolipoprotein E (APOE) ε4 gene have a higher risk for Alzheimer's disease and increased brain levels of beta amyloid, though age remains the most significant risk factor for the disease. The researchers sought to discover if there was a link between age-related comorbities and Alzheimer's disease.
The study included 1,013 adults from the Alzheimer's Disease Neuroimaging Initiative who were sorted into four groups: a genetic risk group (ε4 heterozygous or homozygous participants), a vascular risk group (patients who had been diagnosed with hypertension or elevated blood pressure), a double risk group (patients with genetic and vascular risks), and a control group (who had neither risk factor).
The researchers used F-florbetapir scans expressed as a standardized uptake value ratio (SUVR). Scan results were organized with a cutoff of 1.1, with SUVRs >1.1 considered positive for beta amyloid.
Participants in the double risk group had a mean SUVR 1.4. Those in the genetic risk group had a mean of 1.3. Both the vascular risk group and control group had mean SUVRs of 1.1.
When the researchers stratified the results by age, they found that participants aged <70 years had no significant differences in SUVRs whether they were hypertensive or not. However, for participants aged ≥70 years, those who were hypertensive had mean SUVR scores of 1.2 compared with the mean 1.1 for normotensive participants.
The results warrant further studies to investigate how other age-related conditions may affect the risk of Alzheimer's disease.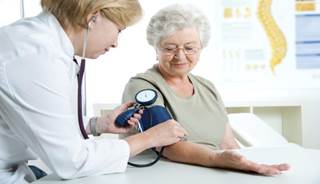 Hypertension Adds to Genetic Risk in Alzheimer's Disease
Hypertension interacts with genetic risk to increase the burden of amyloid beta (Aβ) in the brain, a new study suggests.
In Alzheimer's disease (AD), individuals with the apolipoprotein E (APOE) ε4 gene, indicating higher AD risk, had higher levels of Aβ, researchers report. Even in healthy control patients, the presence of hypertension and APOE ε4-positivity was associated with a greater level of Aβ in the brains of adults older than 70 years.
Despite the strong risk conferred by APOE ε4, age remains the greatest risk factor for AD, suggesting that age-related comorbidities may be important. Among them, "poor vascular health is a significant medical issue in aging populations," Karen Rodrigue, PhD of the Center for Vital Longevity at the University of Texas at Dallas told delegates here at the 7th Clinical Trials on Alzheimer's Disease (CTAD)
Next Article in Neurodegenerative Diseases
Sign Up for Free e-newsletters
Check out what's trending
CME Focus