November 26, 2014
Absence of Brain Protein May Slow Growth of Amyloid Plaque
the Neurology Advisor take:
Scientists say that a protein that plays in role in waking people up from sleep may also be responsible for the build-up of beta-amyloid plaque that is thought to cause Alzheimer's disease.
David M. Holtzman, MD, of Washington University in St. Louis, and colleagues found that while working with mice, when they eliminated the protein orexin, the mice slept for longer periods of time and the production of amyloid plaque was greatly slowed.
Mice that were bred to lack the gene for orexin developed half as much brain plaque as mice that had orexin, they reported in The Journal of Experimental Research. Orexin is made in the brain's hypothalamus and works to stimulate wakefulness.
"The fact that orexin can only affect plaques when it also affects sleep means we will have to think carefully about how to target it for Alzheimer's prevention," Holtzman said in a statement. "But the declines in plaque levels that we saw in the mice were very strong, so we're still very interested in exploring its potential for reducing risk."
Holtzman and his team are also studying how sleep medications impact beta amyloid production. Suvorexant (Belsomra), a sleep medication recently approved that affects orexin, is on their radar screen.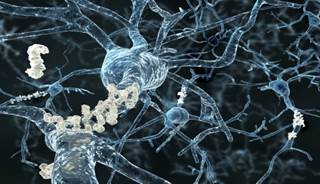 Absence of Brain Protein May Slow Growth of Amyloid Plaque
A protein involved in waking up from sleep could help prevent Alzheimer's, scientists have discovered.
Links between sleep problems and Alzheimer's disease have become increasingly established over recent years. Previous studies have shown sleep loss results in the growth of brain plaque — a key characteristic in the brains of those who suffer from the disease.
Scientists at Washington University School of Medicine have found that a protein called orexin could be involved in the build-up of brain plaque, and therefore could be used to prevent Alzheimer's.
Next Article in Neurodegenerative Diseases
Sign Up for Free e-newsletters
Check out what's trending
CME Focus