February 18, 2015
Mechanism Behind Neuronal Death in Prion Diseases Identified
the Neurology Advisor take:
Researchers from The Scripps Research Institute have uncovered a mechanism of neuronal death that could prove to be a link between neurodegenerative diseases like Alzheimer's and Parkinson's.
In a culture and animal model of misfolded TPrP, researchers found that restoring nicotinamide adenine dinucleotide (NAD+) reversed the effects of TPrP injury, essentially saving neurons that were initially marked for destruction. TPrP induces neuronal death by depleting NAD+, however researchers found that restoration of NAD+ saved neurons despite the misfolded protein's presence.
The discovery could lead to new treatment strategies for prion diseases that involve toxic protein misfolding.
The researchers also observed that the loss of NAD+ induced autophagy and apoptosis, but these processes did not initiate neuronal death. NAD+ may play a significant role in Parkinson's, where NAD+ depletion may be behind mitochondrial failure.
"Our study shows for the first time that a failure of NAD+ metabolism is the cause of neuronal loss following exposure to a misfolded protein," said Corinne Lasmézas, a TSRI professor and study investigator.
The finding will be the focus of a new three-year study supported by a $1.4 million grant from NINDS. The study will aim to identify new drug candidates, and the researchers have already developed some primary tests for compounds that may be restorative for NAD+.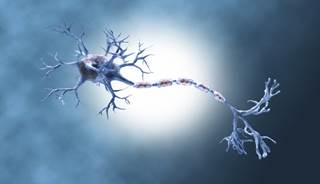 Mechanism Behind Neuronal Death in Prion Diseases Identified
Scientists from the Florida campus of The Scripps Research Institute (TSRI) have for the first time discovered a killing mechanism that could underpin a range of the most intractable neurodegenerative diseases such as Alzheimer's, Parkinson's and ALS.
The new study, published recently in the journal Brain, revealed the mechanism of toxicity of a misfolded form of the protein that underlies prion diseases, such as bovine spongiform encephalopathy ("mad cow disease") and its human equivalent, Creutzfeldt-Jakob disease.
"Our study reveals a novel mechanism of neuronal death involved in a neurodegenerative protein-misfolding disease," said Corinne Lasmézas, a TSRI professor who led the study.
Next Article in Neurodegenerative Diseases
Sign Up for Free e-newsletters
Check out what's trending
CME Focus