October 09, 2014
Omega-3 Polyunsaturated Fatty Acid Intake May Reduce Risk of ALS
the Neurology Advisor take:
Omega-3 polyunsaturated fatty acid intake may reduce the risk of developing amyotrophic lateral sclerosis (ALS), according to findings from a national study that involved more than 1 million patients.
As ALS cannot yet be prevented or cured, researchers explored the association between consumption of omega-6 and omega-3 polyunsaturated fatty acids (PUFA), which incorporate in brain lipids and modulate oxidative and inflammatory processes, and ALS risk.
The study, published in JAMA Neurology, assessed the diets of nearly 480,000 women and 523,000 men from five cohorts, including subjects from the National Institutes of Health-AARP Diet and Health Study, the Cancer Prevention Study II Nutrition Cohort, the Multiethnic Cohort Study, the Health Professionals Follow-up Study and the Nurses' Health Study, to formulate risk ratios of ALS incidence or death. Overall, there were 995 cases of ALS documented in the study cohort.
Greater intake of omega-3 PUFA was associated with a lower risk of developing ALS, whereas consumption of omega-6 PUFA was not associated with ALS risk, the researchers found. The multivariable-adjusted risk ratio for the highest to lowest quintile of the omega-3 PUFA intake was 0.66 (95% CI: 0.53-0.81; P<0.001 for trend).
The results indicate that consumption of foods high in omega-3 PUFA may help to prevent or delay the onset of ALS.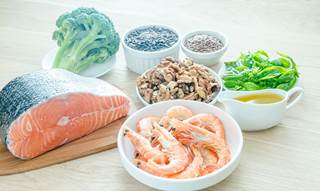 Omega-3 fatty acid
Amyotrophic lateral sclerosis (ALS) is a severe progressive disease that cannot be prevented or cured. Diet-derived long-chain polyunsaturated fatty acids (PUFAs) are incorporated in brain lipids and modulate oxidative and inflammatory processes and could thus affect ALS risk and progression.
Alberto Ascherio, MD, DrPH, of the Department of Nutrition at Harvard School of Public Health, in Boston, Massachusetts, and colleagues examined the association between ω-6 and ω-3 PUFA consumption and ALS risk in longitudinal analyses that included five prospective cohorts.
Next Article in Neurodegenerative Diseases
Sign Up for Free e-newsletters
Check out what's trending
CME Focus