April 30, 2015
Presenilin-1 Peptide May Inhibit Beta-Amyloid Growth in Alzheimer's
the Neurology Advisor take:
Researchers from the University of California – San Diego may have identified compounds that block the production of beta-amyloid peptides in mice, which may have implications in the treatment of Alzheimer's disease.
Previous compounds tested in trials have been unsuccessful because they cleave other proteins besides amyloid precursor protein (APP), causing undesirable affects in the cell. In this study, researchers focused on the P8 compound that acts specifically on APP instead of other enzymes, essentially blocking the APP from processing into smaller amyloid peptides.
Nazneen Dewji, PhD, and colleagues worked specifically with P8, made from fragments of presenilin 1, which in previous studies was shown to interact with APP to produce beta-amyloid. The researchers found that two, small, water-soluble peptides from the PS-1 NH2-terminal domain targeted and substantially inhibited the production of beta-amyloid as well as beta-amyloid 40 and 42 in vitro and in vivo in the brains of APP transgenic mice. On average, there was a 50% greater reduction in plaque accumulation in mice given a two-week course of either P8 or P4, another experimental compound, than those who received no treatment.
"We now have a new approach for the treatment of Alzheimer's disease that can arrest the production of beta amyloid very early and specifically," Dewji said in a press release. "It's a real chance at a successful treatment for Alzheimer's disease."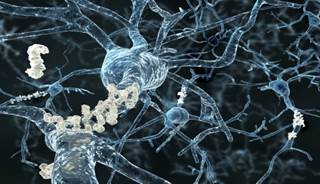 Presenilin-1 Peptide May Inhibit Beta-Amyloid Growth in Alzheimer's
β-Amyloid (Aβ) accumulation in the brain is widely accepted to be critical to the development of Alzheimer's disease (AD). Current efforts at reducing toxic Aβ40 or 42 have largely focused on modulating γ-secretase activity to produce shorter, less toxic Aβ, while attempting to spare other secretase functions.
In this paper we provide data that offer the potential for a new approach for the treatment of AD. The method is based on our previous findings that the production of Aβ from the interaction between the β-amyloid precursor protein (APP) and Presenilin (PS), as part of the γ-secretase complex, in cell culture is largely inhibited if the entire water-soluble NH2-terminal domain of PS is first added to the culture
Next Article in Neurodegenerative Diseases
Sign Up for Free e-newsletters
Check out what's trending
CME Focus