January 20, 2015
New Tool Can Help Physicians, Patients Monitor Cognitive Decline
the Neurology Advisor take:
A tool developed by researchers from the Regenstrief Institute and Indiana University Center for Aging Research may be able to monitor and detect cognitive, functional and psychological changes in older adults, allowing physicians to monitor a patient's progress or decline.
The Health Aging Brain Care (HABC) Monitor analyzes 27 items on a four-point scale and includes caregiver and self-report versions that can be completed online or with paper and pencil in about three minutes. The tool includes questions about repeating processes, forgetfulness, cooking, taking medications, physical activity, hallucinations, and feelings of anxiousness and fear.
While physicians at the Center for Aging Research have already been using the tool for two years, researchers validated the patient self-report version in a study published in December. In the study, the HABC monitor demonstrated "good reliability and validity as a clinically practical multidimensional tool for assessing and monitoring symptoms of older adults attending primary care clinics," according to Medscape.
The study, which included 291 patients aged 65 and older, lacked longitudinal data to estimate the test-retest reliability and sensitivity of the tool over longer periods of time. The researchers suggested that a future study test the sensitivity of the tool compared to other valid tools in use, such as the Neuropsychiatric Inventory.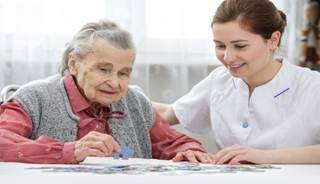 New Tool Can Help Monitor Cognitive Decline
A new tool may provide a simple and reliable way to detect and monitor cognitive, functional, and psychological symptoms in aging adults, according to the tool's developers, who are from the Regenstrief Institute and Indiana University Center for Aging Research, in Indianapolis.
The Healthy Aging Brain Care (HABC) Monitor "helps busy physicians accurately measure and monitor the severity of symptoms, providing valuable information that the patient's entire care team needs," Malaz Boustani, MD, MPH, notes in a statement.
"We have been using this tool in the Eskenazi Health System for more than 2 years," Dr Boustani, medical director of the Eskenazi Health Healthy Aging Brain Center, in Indianapolis, told Medscape Medical News.
Next Article in Neurodegenerative Diseases
Sign Up for Free e-newsletters
Check out what's trending
CME Focus